Block family to make rally return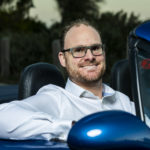 By Damion Smy
Thursday 16th February, 2023 - 10:23am
Lucy and Lia Block will take part in the 2023 Green APU American Rally Association series, with their next event the gravel 100 Acre Wood Rally in Salem, Missouri, on March 17-18.
It will be the first event for the wife and daughter of Ken Block, who died in January this year.
"We're very pleased to confirm Lucy and Lia Block will enter next month's 100 Acre Wood Rally. As everyone knows Ken won this event seven times – it's an event which holds a very special place for all of us," said team manager Derek Dauncey.
Australian Rhianon Gelsomino, who has co-driven with Hoonigan's Travis Pastrana and Australian Brendan Reeves, will co-drive with 16-year-old Lia Block, while Ken Block's former co-driver Alex Gelsomino will pair with Lucy Block.
"Before the tragic events of January we'd made some changes to the team structure," Dauncey said.
"This included introducing a new co-driver for Lia in Rhianon Gelsomino. Rhi will take over the co-driving duties and continue to help Lia's development with her pacenotes.
"Rally was such an important part of Ken's life and this fondness for the sport has spread throughout the whole Block family, so I'm pleased we will run this event.
"We also plan to enter the remaining ARA rounds and look forward to meeting everyone who makes the sport work on each rally."
Lucy Block will compete in the Ford Fiesta Rally3 that she drove in 2022.
"Ken's co-driver Alex Gelsomino will co-drive for Lucy Block this year on the ARA rounds," said Dauncey.
"Alex was a founding member of the team in 2010 so it's great to continue to work with him. I would like to say a massive thank you to Michelle Miller, who stepped aside to allow this change; as a team, we greatly benefited from Michelle's input last year.
Lia Block will drive an ex-Derik Nelson Subaru BRZ in the L4WD class with Gelsomino, moving to a rear-wheel driver rally car for the first time.