2023 Supercars Newcastle 500 track schedule released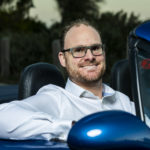 By Damion Smy
Saturday 11th February, 2023 - 6:00am
Supercars has released the track schedule for opening round of the 2023 Repco Supercars Championship, which will be the Thrifty Newcastle 500 on March 10-12.
Returning to the city for the first time since 2019, Newcastle will be the first race event for the new era of the championship, with the Gen3 Ford Mustang and Gen3 Chevrolet Camaro bringing an entirely new grid of Supercars since Car of The Future in 2013.
Supercars announced its 2023 race formats yesterday, Newcastle's being three 45-minute practice sessions, a pair of 250km races as well as a Top 10 Shootouts for both races.
Now confirmed is that the first Supercars Championship session at the event commences at 11:15 local time/AEDT on Friday March 10, with all three practice sessions to take place that day.
Saturday qualifying sees an all-in 20-minute session at 11:15 and a shootout at 12:35, before Race 1 of the 2023 season starts at 15:20. To reach the 250km mark, the race will be 95 laps of the 2.461km layout, or will be time certain one lap after 17:18.
Sunday's activity includes a drivers parade at 09:50, before Race 2 – another 250km, 95-lap race – at 15:20.
Support categories include the Touring Car Masters, Aussie Racing Cars and the Dunlop Super2 Series.
Construction of the Newcastle street circuit started earlier this month, with the last event held there in 2019.
The Newcastle 500 takes place on March 10-12, with entertainment in the Foreshore Park featuring Icehouse, Jon Stevens, and The Screaming Jets on the Friday night, while Saturday night's concert will be headlined by the Hilltop Hoods, supported by Thelma Plum, San Cisco, Newcastle's Trophy Eyes, and Trials.
A Community Fun Day at Civic Park on February 18 will feature several Supercars Championship drivers.
Schedule: Newcastle 500, Newcastle East Street Circuit
Local time/AEDT
Competition/Category
Session
 
Start
End
 
 
 
Friday, March 10
09:05
09:25
Touring Car Masters
Practice
09:35
09:55
Aussie Racing Cars
Practice 1
10:10
11:00
Super2 Series
Practice 1
11:15
12:00
Supercars Championship
Practice 1
12:20
12:40
Touring Car Masters
Qualifying
12:50
13:30
Super2 Series
Practice 2
13:45
14:30
Supercars Championship
Practice 2
14:45
15:05
Aussie Racing Cars
Practice 2
15:15
15:35
Touring Car Masters
Trophy Race
12 laps or 1 lap after 15:33
15:50
16:35
Supercars Championship
Practice 3
Saturday, March 11
09:15
09:35
Touring Car Masters
Race 1
12 laps or 1 lap after 9:38
09:55
10:10
Aussie Racing Cars
Qualifying
10:25
10:35
Super2 Series
Qualifying Race 1 – Dunlop Super3
10:45
10:55
Super2 Series
Qualifying Race 1 – Dunlop Super2
11:15
11:35
Supercars Championship
Qualifying
12:00
12:20
Touring Car Masters
Race 2
12 laps or 1 lap after 12:18
12:35
13:00
Supercars Championship
Top 10 Shootout
13:15
13:35
Aussie Racing Cars
Race 1
12 laps or 1 lap after 13:33
13:50
14:20
Super2 Series
Race 1
21 laps or 1 lap after 14:18
15:20
Supercars Championship
Race 1 – 250kms
95 laps or 1 lap after 17:18
Supercars Championship
Podium
Sunday, March 12
09:15
09:35
Aussie Racing Cars
Race 2
12 laps or 1 lap after 9:33
10:25
10:35
Super2 Series
Qualifying Race 2 – Dunlop Super3
10:45
10:55
Super2 Series
Qualifying Race 2 – Dunlop Super2
11:15
11:35
Supercars Championship
Qualifying
12:00
12:20
Aussie Racing Cars
Race 3
12 laps or 1 lap after 12:18
12:35
13:00
Supercars Championship
Top 10 Shootout
13:15
13:35
Touring Car Masters
Race 3
12 laps or 1 lap after 13:33
13:50
14:20
Super2 Series
Race 2
21 laps or 1 lap after 14:18
Super2 Series
Podium
15:20
Supercars Championship
Race 2 – 250kms
95 laps or 1 lap after 17:18
Supercars Championship
Podium