Whincup: First Gen3 test gives BRT no advantage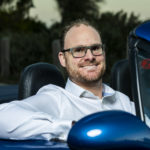 Jamie Whincup has said that Blanchard Racing Team is not an advantage over the rest of the Supercars field in having been first to shake down a Gen3 Supercar.
The BRT Ford Mustang was the first of the Gen3 Supercars to be driven on the racetrack, with the #3 Mustang steered by team boss Tim Blanchard at Winton last Wednesday, February 1, before its 2023 signing in Todd Hazelwood completed close to 60 laps of the circuit.
Today, BRT will return to Winton for its second day of Gen3 running, representing its first official test day, while the majority of the field is yet to test at all.
Whincup, Team Principal of Triple Eight Race Engineering, which is the homologation team for the Gen3 Chevrolet Camaro, says that BRT is not an advantage but is helping the entire field.
"I think it's fantastic," Whincup told Speedcafe.com. "CoolDrive are supplying a lot of the componentry, so it's fantastic that they can get the car out there – any issues they had with componentry that is a control part will be filtered back through all the teams, so the earlier they could get on track, the better.
"The same applies with the homologation teams as well; we want to get on track and test our car, find out the unknowns, so we can feed that info on to all the other teams."
The comments are at odds with Erebus Motorsport boss Barry Ryan's public suggestion that teams that could make the planned shakedown dates – since dropped by Supercars after a unanimous vote by the teams – had an 'unfair advantage' over the rest of the grid.
Additionally, at last week's landmark first Gen3 shakedown, BRT boss Blanchard was adamant that despite the data sharing, running first put his team in the best possible position for the season ahead.
"We've just got to concentrate on what's best for us, and the best thing for us to get a result at Newcastle is by getting mileage on the car and learning as quickly as possible," Blanchard told Speedcafe.com.
"Unfortunately the downside is you may give some of the others a free kick, but that's just the way it goes, and I still think the advantages of being first out outweigh any of those negatives."
While BRT returns to Winton today, when Dick Johnson Racing and Matt Stone Racing are set to shake down cars at Queensland Raceway, Triple Eight is expected to be on track at Queensland Raceway for its first Gen3 shakedown this Thursday, while Tickford Racing is planning track time for at least one of its four Ford Mustangs at Winton tomorrow (Wednesday).