Waters to undertake Tickford Gen3 Mustang Supercars test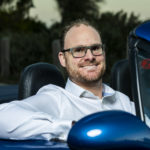 Cam Waters will test the #6 Tickford Racing Gen3 Ford Mustang this Wednesday at Winton Raceway.
The 2023 Repco Supercars Championship runner up will get behind the wheel of the team's first Gen3 Mustang, with the four-car squad using the #6 as the test-bed for its remaining three Mustangs that will be driven in 2023 by James Courtney, Thomas Randle and Declan Fraser.
Tickford will be the second of the 'Southern' Ford Supercars teams to test, following the Blanchard Racing Team's successful 60-lap running at Winton on February 1.
The track time comes following a unanimous vote by Supercars teams at the January Commission meeting to introduce a 'flexible' testing program, in place of the original shakedown dates of January 30 for Northern-based teams and February 1 for Southern teams – the first of these cancelled completely, while the latter saw only the BRT Mustang in attendance.
The Box Hill based BRT will again test the CoolDrive Mustang at Winton tomorrow, putting it in the enviable position having completed two days of testing before many teams have managed to turn a wheel in a Gen3 Chevrolet Camaro or Ford Mustang.
While BRT continues its program in Victoria, Dick Johnson Racing will first test its Shell V-Power Racing Team Mustangs at Queensland Raceway tomorrow, following the reveal of their Gen3 Mustang livery on The Today Show this morning.
The flexible testing implementation means that teams are now allowed unlimited shakedown mileage, which was previously limited to 60km, while also being permitted to test without other teams present following the introduction of 'flexible testing'.
This follows parts delivery delays and ongoing homologation that has slowed the build progress of the new Supercars Gen3 race cars across the field, with Ford's Mark Rushbrook suggesting that Supercarsis yet to reach parity between the Camaro and Mustang.