SVG at a loss to explain B12 Hr 'struggle street'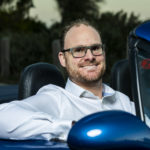 Shane van Gisbergen is at a loss to explain a disappointing performance at the 2023 Bathurst 12 Hour.
The 2022 Bathurst 1000 winner, Supercars Champion and 2016 Bathurst 12 Hour winner couldn't get to grips with the #888 Mercedes-AMG GT3 EVO and was easily outdriven by his co-drivers, DTM Champion Maximilian Gotz and Red Bull Ampol Racing Supercars team-mate, Broc Feeney.
Since Friday, when this year's 12 Hour field first headed onto the Mount Panorama circuit, the New Zealander struggled to turn in his typical performance, chasing the ultimate pace that has seen him rated as one of the Southern Hemisphere's best driving talents.
When asked by Speedcafe.com to elaborate on what caused the Triple Eight driver's lack of pace, he responded: "Yeah not sure, just not – hard to put it into more words than 'not comfortable'."
The issues saw Feeney qualify the #888 entry – missing out on pole position by a mere 0.2164s to start on the front row – with van Gisbergen's time behind the wheel limited.
While Feeney's rivals from Europe, including pole-sitter Maro Engel, praised the 20-year-old's talent, van Gisbergen was unusually off the pace.
During the 12 Hour itself, his lap times also fell short of his co-drivers as he continued to battle despite driving one of the fastest cars in the field.
When asked what he wasn't able to do, van Gisbergen told Speedcafe.com: "Go fast! I don't know man, just not comfortable – struggle street".
Van Gisbergen's reputation as one of the best racing drivers on the planet has been built upon his ability to be competitive in a variety of machinery.
That's seen him win in both Supercars, where he set a record for the most number of wins in a season in 2022, with 21 victories, while he also shone driving a Skoda in the multiple rallies, winning last July's Far North Rally before ninth-place overall, and third in WRC2, at Rally New Zealand.
He also achieved his first sprintcar victory at Palmerston North, New Zealand, late last month.
Van Gisbergen will reset for his next race, the season-opening round of the 2023 Repco Supercars Championship, the Thrifty Newcastle 500 on March 10-12.