Lowndes out of Bathurst 12 Hour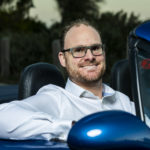 Craig Lowndes is out of the 2023 Bathurst 12 Hour after his Scott Taylor Motorsport Mercedes-AMG GT3 ended up in the fence at Mount Panorama
Two-times 12 Hour-winner Lowndes was in the commentary box moments before the incident, which happened when Scott Taylor was at the wheel of #222.
"I actually said to the boys upstairs that we need some more safety cars to get back on the lead lap, but not by us creating the Safety Car," said Lowndes.
"I'm not sure whether it's sort of the cameras sort of passed away a little bit, but it looks like he's gone over Skyline, whether he's got that grass verge between the run through and the curb, and it's just loss of the rear looks like the results of the rear and a slap into the wall. And we know up there, there's just no room for error."
The four-driver entry, which Lowndes shared with Geoff Emery and Alex Davison as well as Taylor, had been seventh in the Pro-Am class and 16th outright after almost seven hours of racing.
"So it's a shame; Scotty has put in a lot of hard work. Ash and all the team here have ever really put, you know, literally got the car out of mothballs and went right over it."
"We had a clean ride at Philip Island a couple of weeks ago. We're all really happy in the car," Lowndes added. "And you know, as I said, we were raising good funds for the Prostate Cancer Foundation, so it's a shame, but look, that's motor racing, we know that. The good thing is he's [Taylor's] okay. Absolutely"
Earlier, Davison was at the wheel when Stephen Grove lost control of the #4 Grove Racing EMB Porsche 911 GT3 R at Brock's Skyline while Davison was in close quarters in #222, with the Mercedes-AMG able avoid contact with the spinning Porsche.