Grove Racing crashes out of Bathurst 12 Hour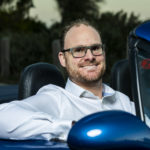 Grove Racing's Liqui Moly Bathurst 12 Hour came to an early end after crashing out at Brock's Skyline in the third hour of the race.
Footage showed the #4 Grove Racing Porsche 911 GT3 R impacting with the wall before sliding across the track to make additional contact twice with the opposite wall and come to rest with significant damage.
The incident drew the first Safety Car of the race as the wreckage was cleared on the back of a flatbed truck.
Stephen Grove was at the wheel at the time, with son Brenton offering his view on the incident.
"I think he got hit by [Alex] Davison, that's all we can see at the moment," he said.
"There's big penalties for Pros hitting Ams, especially around the top … so if that's what happened I hope it gets dealt with properly."
The pair were running close to one another on track as they battled for 13th, fifth in Pro Am class.
However, according to Alex Davison, who was at the wheel of the #222 Scott Taylor Motorsport Mercedes-AMG GT3, there was no contact.
"There was no contact – he just lost it by himself and I happened to be close behind him," Davison told Speedcafe.com.
The incident saw Grove out of the 12 Hour as the race approached the three-hour mark.
Its early exit comes after a fourth place at the Dubai 24 Hour from the same driver combination of Brenton and Steven Grove with  Supercars driver Anton de Pasquale.
The #222 has continued in the race, with Craig Lowndes currently at the wheel while Race Control has announced it is investigating the incident.
UPDATE 0954 AEDT: Race Control has confirmed that there will be no further action following an investigation into the incident.