Drive-through penalty for GruppeM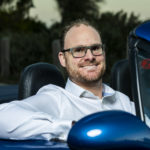 Maro Engel has thwarted chances of Bathurst 12 Hour victory for his GruppeM 999 Mercedes-AMG with a drive-through penalty after a collision when battling for the race lead.
The German attempted to pass race leader Gounon in the #75 Sun Energy Racing Mercedes-AMG after showing faster pace on fresher tyres for several laps. A previous attempt to pass at The Chase resulted in light contact, but a lap later the nose of the #999 contacted the rear of the Gounon Mercedes, sending it into a spin.
Race officials despatched a drive-through penalty for the GruppeM entry, which dropped the car from first on the road to third position.
"I mean for me, Jules moved at the end of the braking zone so I don't know where Mario could go, because he was committed to overtaking him already but the problems started earlier," said Engel's GruppeM co-driver, Mikael Grenier.
"Because we had to do a longer stop, the series couldn't see telemetry, so we had to change the sensor in the car. And we lost the lead because of that which I think is not fair cause they can still see telemetry in the garage to do the last pit stop, makes no sense for me. So Mario had to go for it.
Porsche driver Matt Campbell was only 13s behind the lead pair when the incident occurred and is also on newer tyres than Gounon with less than 40 minutes of the race remaining.
Asked if the GrouppeM team thought they could challenge for the win, Grenier responded:"If there is a safety car, maybe. Unless there is a safety car I think it is done."