Rossi enchanted by 'Mythical' Bathurst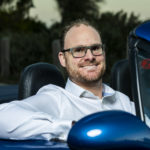 Valentino Rossi has described the Mount Panorama circuit as 'mythical' after completing his first laps of the 6.213km circuit in Practice at the 2023 Liqui Moly Bathurst 12 Hour.
Racing for the factory Team WRT, the seven-time MotoGP champion topped Practice 2 in what was his first session around the circuit in his BMW M4 GT3.
"Mount Panorama is one of the mythical tracks, so from the PlayStation racing now I make a lot of love, the preparation with [the] sim is good …  you arrive here, you know more or less where the gear and the lines."
"To be here in Mount Panorama after 20 years of sim is an emotion when you see the track for the first for the first time. It also is a very high-level race with a lot of drivers and cars that are fast, so is it good."
Rossi explained that the Bathurst layout is very similar to Macau and the Nordschleife in Germany with its flow and technical demands it places on the driver.
"The best part for me is after Turn Five [Reid Park] when you went through the Turn Six, so the first part after that you have one right, left-left-left on the top, but also the first part of the of the downhill is great, and when you have this snake and you arrive to the bottom, this is the best part."
"This is good because it's two different tracks; on here is normal track very fast and anyways is flowing, and after the mountain is different.
Despite the preparation impressive pace, Rossi is still yet to push his BMW M4 GT3 to the limit as he adjusts to both the circuit and the switch from the Audi R8 LMS Evo II that he raced in 2022.
"I always keep five centimeters!' Rossi joked. "You have to take a bit of margin, because if you make a mistake, it's a big problem … you have to try the maximum but also anyway when you drive you're scared right because it's fast and the wall is there but, anyway you enjoy when you drive."