MARC rollover at Bathurst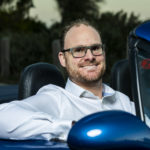 The MARC Cars entry of Keith Kassulke has ended up on its roof at The Chase during Bathurst 12 Hour Practice 4, ending the session with a little over 20 minutes remaining.
The Bronze-ranked driver was unable to stop for left-hander at The Chase, which follows the high-speed entry kink – one of the fastest parts of the Mount Panorama layout – with a lack of locking wheels indicating brake failure as the likely cause.
Kassulke seemingly realised he was in trouble and in an attempt to slow the car, steered the vehicle to the inside of the corner. This resulted in the kerbing launching the vehicle into the air significantly.
The #52 MARC II V8 dramatically came to rest upside down, with the medical crews communicating with the conscious and responsive Kassulke in the aftermath of the crash.
Kassulke, from Papua New Guinea, had been due to race the MARC Cars #52 entry with Australian co-drivers Cameron McLeod and Hadrian Morrall for Sunday's race.
UPDATE: Kassulke cleared of major injury
CLICK HERE for Practice 4 report