Hazelwood: Gen3 Supercar 'Off-the-scale different'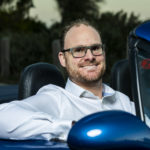 By Damion Smy
Thursday 2nd February, 2023 - 6:00am
Blanchard Racing Team driver Todd Hazelwood has described his team's new Gen3 Ford Mustang as delivering a new driving experience compared to the outgoing Supercars.
Hazelwood was the first full-time Supercars competitor to drive a Gen3 race car on-track with BRT the only team on the grid able to deliver one by the planned February 1 shakedown date.
Team boss Tim Blanchard made the first laps of a Gen3 race car ahead of Hazelwood, as a nod to the #3 CoolDrive Mustang being the first to bear a BRT chassis designation in BRT001.
"It just feels so foreign from a driving point-of-view," Hazelwood told Speedcafe.com. "It does everything different. Doesn't matter if I've driven a Triple Eight car, [that] I drove for BJR [Brad Jones Racing] and now to be here, it's off-the-scale different.
BRT arrived at Winton as the first Gen3 Supercar runner of the Southern-based outfits and the only car on track, giving what the team sees as a competitive advantage given its accumulation of the first Gen3 race car data.
"It's definitely different kettle of fish to try and get your head around," explained Hazelwood. "It's a completely different challenge from a driving point of view. It still feels like a Supercar; still under-tyred, heaps of power – it actually feels like it's got more power with the way the torque comes on."
The #3 CoolDrive Gen3 Mustang completed eight separate runs, including Blanchard's installation laps and runs for promotional videography purposes, with the longest session covering just over 30 laps.
"I just sort of built up as the day went on," he told Speedcafe.com.
"Obviously, when you first go out, you're just more so making sure the car functions properly, and the components are doing their thing … by the end of the day, we gave it a bit of a crack and did a couple of push type sets towards the end, and the car ran flawlessly, so I couldn't be happier."
"As I said, it still feels like a Supercar. It's got all those differences compared to say, an open wheeler, but it really is a whole new challenge to maximise it.
"So you can definitely feel the torque of the engine, the way it puts its power down is more aggressive. It's got less aero, slides around a bit more. I think it's going to be spectacular to watch.
"The challenge is going to be now which driver wraps their head around it best. So, that was a big reason why we pushed so hard to be here for that first test day, because we knew it was going to be a challenge."