Blanchard hails 'faultless' first Gen3 laps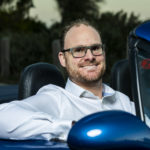 Wednesday 1st February, 2023 - 11:10am
Tim Blanchard has reported his initial laps in the Blanchard Racing Team's Gen3 Ford Mustang Supercar as "faultless".
The 2007 Australian Formula Ford champion had the honour of being the first driver to wheel a Gen3 race car around a track, at Winton Motor Raceway.
Thus far, the #3 CoolDrive Mustang has done an installation lap and a three-lap run, all in the hands of Blanchard himself.
"[I was driving at] 50 percent, so it's pretty hard to say characteristics, and I haven't driven a prototype," he told Speedcafe.com.
"It does feel a fair bit different. Our install laps all really good. No vibrations, no issues, no alarm bells whatsoever. It was just faultless.
"Just being here is a massive credit to the guys, to everyone involved in putting this together now in our team and to roll out there and just first three, four laps just have no vibration, no issues, it just shows you that it's put together very well.
"Not only is it done in the timeframe, it's done at a high standard.
As for the rest of the day, Blanchard said, "So now it's just slowly building up longer and longer runs and today's just about reliability and understanding the issues.
"Probably should let Todd [Hazelwood] drive now, but just get more and more mileage on it and just create a list of issues that come up and things that we need to focus on before we do a proper test next week."
Hazelwood was in his racesuit but was a keen onlooker for the very first run.
"I think it was just a bit of a sentimental thing," Blanchard told Speedcafe.com about taking the first laps.
"Being the first fully built car by BRT – it's BRT001 – we thought a Blanchard should drive it.
"My Dad and my brother are here, with their helmets on the way to race the Formula Ford at Bathurst this weekend, so had a bit of competition making sure there was Blanchard in it, it wasn't straightforward.
"Being able to drive the first laps in our family team, I think was just a bit of a sentimental thing for all the effort everyone involved has put in."