Gen3 wins still 'down to the car' says Reynolds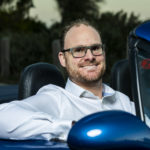 Grove Racing driver David Reynolds has told Speedcafe.com that Gen3 will not bring equal machinery across the Supercars field.
The Gen3 Ford Mustang and Chevrolet Camaro have been designed with more control components that any Supercars before them. Standard parts across the field start with the chassis, suspension components and a control engine for each brand respectively. It means that each team has less of its own intellectual property on each race car, as the majority of parts are supplied across the field rather than produced in-house.
While a Gen3 Supercar has been predicted to be more difficult to drive, with a significant reduction in downforce to reduce aero wash to improve passing opportunities as one of the most significant changes tipped to make the Camaro and Mustang more dependent on the driver behind the steering wheel.
"I still believe that 90 percent of our job is done by our car, the car set up, the operation of our teams and so on," the 2017 Bathurst winner told Speedcafe.com.
"The one thing that carries over for Gen3 [from] last generation, if you're in the same brand you have a similar engine and while there's a few more control parts like front uprights, you can still get lost in your roll centres and your rollbar and your springs, your camber, toe, your [tyre] pressures – there's a whole range of things you can lose yourself in. So it's still going to come down to who can build a bloody good car."
Reynolds' team boss Stephen Grove has suggested that the early phase of Gen3 will be data-driven, with teams who are able to amass and interpret data from the new cars as the ones who will lead early. With no data on most circuits, that puts four-car teams at an advantage, he suggested.
Yet with one of the Gen3 Supercars programme goals to equalise machinery across the field, Reynolds suggested that it may not make a big a difference to the pecking order as some have suggested.
"It's a big question; motor racing for me has always been about the car, even when I was in Carrera Cup," he said. "With the very, very limited amount of things you could do to the car, they still made a massive difference to lap time.
"Regardless of whether you have super control parts, you still have cambers, toes, [tyre] pressures, ride heights, wings in Carrera Cup – anti-roll bar position. Even in that sort of series, you could still find half-a-second advantage here and there, be better than everyone else. Everyone thinks you can drive, but no, it's actually your car that gives you the performance – a good driver can just drive it on the limit all the time."
"Supercars is no different, there's just way more variables. So there's way more things to do to the car than Carrera Cup or categories like that, and there's way more things you can gain from or lose from."
"Does it come down to the driver? Yes and no," Reynolds added. "I believe that most of us who make it to Supercars can win a race, it's just whether your car is capable of doing it