AJ Foyt Racing switches number to avoid controversy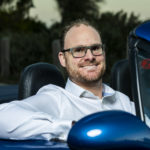 By Damion Smy
Saturday 28th January, 2023 - 9:33am
IndyCar rookie Benjamin Pedersen will race with #55 on his Sexton Properties Chevrolet despite the 23-year-old's AJ Foyt Racing entry revealed with #88 at the team's 2023 season launch.
The switch was announced by the Waller, Texas-based team a week after the livery reveal, after it was suggested that the Pedersen's #88 race number is a preferred symbol of white supremacist groups.
The team says that it was unaware of the connotation, with further motivation for the switch being that the No.88 is believed to be employed in combination the #14, fatefully the number of AJ Foyt's other 2023 entry that will be driven by 'super sub' Santino Ferrucci in his first full-time IndyCar season.
"After the reveal of the #88 livery last week, it was brought to our attention that the combination of our two individually entered numbers carries certain ideologic and symbolic references," read a statement from the team.
"AJ Foyt Racing does not condone nor support any such ideologies or symbols, and to avoid any reprehensible associations, we have changed the entry number from 88 to 55."
The #88 had been chosen by the team to celebrate AJ Foyt's 88th birthday, which was on January 16.
Last week, entry lists revealed that 2022 IndyCar Champion, Australian Will Power, is unlikley to run the No.1 on the nose of his Team Penske Chevrolet, instead continuing with the traditional Penske #12 this season.
The #55 of Pedersen will race alongside Ferrucci's unchanged #14 when both drivers make their first appearance with AJ Foyt as the team's all-changed line-up for 2023, with a revitalised engineering group led by former Chip Ganassi Racing engineer, Michael Cannon.
Cannon will have an overview of engineers Daniele Cucchiaroni and Roberto Garcia as the team and was brought into the team following the appointment Craig Brooks as team manager last November.
That followed a 2022 season where AJ Foyt Racing's three cars finished in the bottom three so far as (would-be) full-time entries were concerned.
The first on track appearance will be at the IndyCar Open Test at the Thermal Club on February 2.
CLICK HERE for draft test schedule.