Waters wanting at Mt Gambier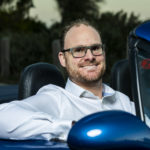 Cam Waters has had a character-building night at Mount Gambier.
The Tickford Racing Supercars driver and 2022 Repco Supercars Championship runner-up competed in three races for the Australia Day event, where he once again drove with Chief Racing.
The Time Trail showed signs of a promising evening for Waters, with a fourth-place of the 11-car field with an 11.844, with Tyler Courtney fastest (11.558).
Race 1 saw Waters slip back from his fourth-place starting spot as he struggled with the set-up for the car.
"Started the night not too bad, time trialled fourth. The track was a bit greasy but we were half okay, Waters said.
With no resolve for the second race, Waters once again slipped back from his starting position to come home 11th and last.
A tenacious effort for Waters and the team saw him find a better set-up for the B-Main race, where Waters managed to jump up two positions to come home ninth in what was a challenging night.
"First heat, battled a lot trying to get the car to hook up in the slick, we thought that the track was hookier than it was," Waters explained.
"Heat 2 was much the same with struggles. We went through everything and changed a bunch of stuff for the B-Main.
"It made the car much better but, after having two bad heats we were pretty deep in the B [B-Main].
"It was good to go and find a direction and work out what wasn't working. We'll have a night off, look over the car and come out ready for the Classic"
James McFadden won the event, with both McFadden and Waters among a bumper field at the 2023 Grand Classic at Warrnambool, Victoria.
McFadden is part of a new team that includes Scott McLaughlin and AFL star Jack Riewoldt as co-owners.
The three-day Classic at Premier Speedway in Warrnambool starts tonight in what is the 50th anniversary of the event, with 120 competitors battling to make the sold-out Sunday night finals.