Triple Eight and DJR to miss Gen3 Supercars shakedown test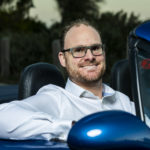 Triple Eight Race Engineering and Dick Johnson Racing will miss the first scheduled Gen3 shakedown test which is set to take place at Queensland Raceway on Monday, January 30.
Speedcafe.com has been told by both teams that neither will field even a single Gen3 Chevrolet Camaro or Ford Mustang for what was to be the first on-track running for the new generation Supercars.
Significantly, Triple Eight Race Engineering is the homologation team for the Gen3 Camaro, while Dick Johnson Racing is the homologation team for the Gen3 Ford Mustang.
The Yatala-based DJR has confirmed to Speedcafe.com that the first running of its own Shell V-Power-backed Gen3 Mustang will be on February 7, the same date that the first Red Bull Ampol Racing Camaro is likely to make its track debut.
Monday, January 30 was intended to be the first running of the Gen3 race cars, with northern-based teams such as DJR, Triple Eight Race Engineering, Matt Stone Racing and PremiAir Racing scheduled to have run at QR that day.
Matt Stone Racing has also confirmed via social media that it won't be at QR this Monday.
It has been thought that the homologation teams may have had an advantage in the build of the Gen3 Supercars, given the potentially shorter lead times., however, their absenteeism from the first QR shakedown suggests otherwise.
Well-reported delays and issues in the build of the 2023 Gen3 Supercars has seen teams delay their first runs, with multiple Victoria-based teams also set to postpone their initial shakedown which was planned for Winton Raceway on February 1.
While Blanchard Racing Team has publicly stated it intends to have its CoolDrive Ford Mustang at Winton next Wednesday, Albury-based Brad Jones Racing is only likely to have two cars at best up and running by this date, given that the four-car team has only received its first two 5.7-litre Chevrolet V8 engines earlier this week.
Erebus Motorsport's Barry Ryan also stated that his team won't be ready for shakedown, with its Camaros not set to appear until the Winton Gen3 test day on February 13.