Gen3 Supercars tests 'unfair' says Erebus boss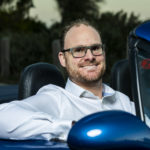 Erebus Motorsport boss Barry Ryan says that teams that will have completed Gen3 Supercars ready for the Winton Raceway February 1 shakedown are at an unfair advantage.
The comments come as the homologation teams, Triple Eight Race Engineering and Dick Johnson Racing, have confirmed that they will not be at the January 30 Queensland Raceway shakedown scheduled for Northern-based Supercars teams.
The February 1 date was set as the first run for Southern-based teams including Tickford Racing, Walkinshaw Andretti United, Team 18, Grove Racing and Erebus Motorsport.
"The planned 1st of February test is not possible to actually have a complete car with all the correct Gen3 approved parts," Ryan explained in a team statement.
"Teams that make that date will be testing with cars that are not complete or Gen3 approved.
"If they do test with complete cars it will be unfair. As it stands we cannot have parts here and properly fitted to cars in time.
"Even if all remaining parts left from all suppliers today, add freight, assembly and set up time and it's past the 1st of February test date."
As it stands, Box Hill-based Blanchard Racing Team appears to be the only team with a high level of confidence of running the February 1 date, while Brad Jones Racing may field one of its four cars, but the Albury-based squad is yet to confirm this.
Ryan says that Erebus Motorsport is 'rock solid' to run its Gen3 Chevrolet Camaro on February 13 if it misses its current February 8 target: "We will move the target until complete cars are 100 percent ready."
"We finally received some more critical parts this week. Our first engine turned up yesterday, thanks to Ken McNamara and his team at KRE for their efforts here for the category.
"Now to the job of engine fit and alignment, plumbing oil lines, water lines, wiring, power steering system, exhaust fitment.
"It would be nice to think we could turn the key and start her up soon, though we are still waiting on an ECU and the fuel specification and supplier.
"We also received a dashboard, radiator intake, boot in-fill panels and the front crash bar. We are still needing some critical items to finish the car that we hope are not too many days away.
"Remembering we want to look after our commercial partners and fans and give them the car unveil and recognition they all deserve," he added.
"One thing I do promise is that Coca-Cola Racing by Erebus will be 100 percent ready with brand new shiny [PPG painted and Metamark wrapped] cars the moment they hit the track, not just 'shakedown' half-ready cars."