Teams preparing for next steps following receipt of Gen3 engines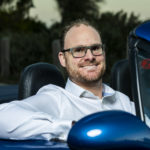 Thursday 26th January, 2023 - 6:00am
Supercars teams are set to move on to the next step in their Gen3 build process having taken delivery of their first race engines.
As reported by Speedcafe.com, draws were held last week for the Ford teams and early this week for their Chevrolet counterparts in order to randomly allocate the initial tranche of engines, under the supervision of team principals, Supercars CEO Shane Howard, and Head of Motorsport Adrian Burgess.
All of the Ford teams are now in possession of at least one unit, although Tickford Racing has two given it is a four-car operation, and delivery to the Chevrolet squads is in progress.
Brad Jones Racing has been using an engine from the prototype to finalise plumbing of its four Camaros, while Tickford is in a similar position given it has been working off a mock-up of the Coyote-derived powerplant for its Mustangs.
"We've already had an engine here; we had a mock-up engine here," Team Principal Tim Edwards explained to Speedcafe.com.
"So, we've actually already done the plumbing and all that sort of stuff; the installation.
"All it means is when the real engines come, it goes into the car permanently and it's the proper fit, so obviously that is a good next step for us.
"But, as we've already had an engine in the car, we already know [how to plumb it], and that's why we're making some of the pipework for the other Ford teams."
Thus far, engines have been allocated such that each team has one for every two cars (Blanchard Racing Team being the exception given it is a single-car operation), although every car will ultimately have two engines.
Herrod Performance Engines is supplying all of the Ford squads for their 11 Mustangs while KRE Race Engines has been charged with producing motors for the 14 Chevrolet Camaros in the field.
All units are dynamometer tested by Supercars engine specialist Craig Hasted before the allocation lottery is held, to ward off any suggestions of favouritism or bias.
Supercars will also randomly check engines throughout the season in order to monitor wear and tear of the new-to-category 5.4-litre double overhead cam Ford and 5.7-litre pushrod General Motors hardware.
Officially, the first shakedowns are scheduled for January 30 at Queensland Raceway and February 1 at Winton for northern- and southern-based competitors, respectively, although there is doubt about whether more than one or two cars will make either date.