Lowndes targeting Finke Desert Race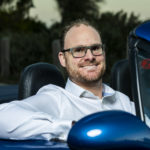 Craig Lowndes has told Speedcafe.com that he's pushing General Motors to compete in the Finke Desert Race in 2023, following the December unveiling of the Chevrolet Silverado ZR2 'Off-Road Racer Concept'.
"I've always wanted to do the Finke – there's no question about that," Lowndes, who was inducted into the Supercars Hall of Fame last month, told Speedcafe.com.
"I'm not sure where we are at the moment with the classification – I think this would fit into a Finke race. Hopefully a production class in Australian Off Road racing. There are a lot of things we've seen; the Ford Raptor, what we've seen Luffy do with the Amarok; hopefully we can go into that going forward."
In what would take the traditional GM versus Ford duel offroad, should the Silverado make it to Finke it could set up a salivating battle against the Ford Ranger Raptor that took a class victory at the 2022 BFGoodrich Baja 1000, which is also tipped to enter the famous desert race.
That vehicle was built by former Supercars team Kelly Racing with Bathurst 1000 winner Todd Kelly who, like Lowndes, is a former Holden Racing Team driver.
The Supercars links proliferate further with Walkinshaw Performance – operated at Walkinshaw Andretti United – having Lowndes' former Bathurst co-driver Warren Luff campaign a Volkswagen Amarok W580 in the 2022 Australian Off Road Championship (AORC). 'Luffy' won the Production 4WD class title on the first attempt.
In 2022, Toby Price won the Finke Desert Race for the second consecutive year, setting a new record in his Mitsubishi Triton Trophy Truck (Extreme 2WD class).
General Motors is yet to confirm any official entry for the Silverado in this year's event, which is scheduled for June 9-12, yet the seven-time Bathurst winner is champing at the bit to further hone what's officially a racing 'concept' at the moment.
"This whole thing came about for internal activation to get their engineers and everyone in teams to build a truck that potentially could go racing, and hopefully that one day we can."
"My role is obviously to give it a shakedown, hopefully develop it further from where it is. A lot of the components underneath are tried and proven; the shocks that come out of Hall Racing out of the US, so the connection between us and the US is very strong, which is great.
"This is going to be my main focus now, but I think that going forward, if there's other things like this through the GM programmes, they're very much aware that if they've got something like this, I want to be part of it because I love that development."