Top Three for Grove in 2023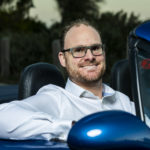 Grove Racing is targeting a top three result in the 2023 Repco Supercars Championship as the category switches to the new Gen3 Ford Mustang and Chevrolet Camaro.
Stephen Grove, co-owner of the Braeside-based Mustang team, said that Gen3 provides a significant opportunity for the team to climb the ladder.
"Success would be top three in the teams' championship, which is a big ask," Grove told Speedcafe.com. "Top five down would be a great result, but for us, you know … we finished fifth position this year [and] we've moved up from eighth [in 2021]. I think we can't drop below sixth … top three would be an outstanding effort with some wins and podiums and hopefully progress further up.
Grove's fifth in the 2022 title battle went down to final race at Adelaide after a closely fought battle with Erebus Racing. In the end, Grove triumphed to snatch fifth place – which Erebus had achieved the previous season – by the barest of margins at just 10 points.
THE FINAL RACE OF THE 2023 REPCO SUPERCARS CHAMPIONSHIP ON ONE OF THE WORLD'S BEST STREET CIRCUITS. GO ALL IN AT THE VAILO ADELAIDE 500, CLICK HERE TO BUY TICKETS
The 3866 points it amassed was a significant increase on 2021, the Groves' first season of ownership of what was formerly Kelly Racing, when it recorded 2818 points for eighth.
Across last season, David Reynolds achieved two pole positions in his #26, at Albert Park and the Gold Coast, with Lee Holdsworth qualifying the #10 Penrite Racing Mustang on the front row at the Bathurst 1000 following the cancellation of the Top Ten Shootout. While looking threatening, an illusive win didn't eventuate, with Andre Heimgartner's stunning victory at The Bend in 2021 remaining the team's only Supercars win in its current guise.
As well as the new Gen3 regulations to deal with, Matt Payne makes his Supercars debut for the team after Holdsworth retired at the end of last season. Payne will run #19, paired with #26 of team-mate Reynolds in a nod to naming rights sponsor, Penrite, which started in 1926.
The team also poached five-time Bathurst winner Garth Tander from Red Bull Ampol Racing for co-driving duties at the 2023 enduros, who split from Shane van Gisbergen with whom he won the 2020 and 2022 Bathursts with.
"As long as we are moving forward every year that would be exciting," Groves told Speedcafe.com.
"For us it's great – we had what we had when we bought the team, I think Todd [Kelly] did a great job to get the cars of over an off-season – over the Christmas break [2019] going from Nissan to Ford," he said.
"Then we sort of got to a point this year [2022] where there were other areas where we knew that we could get more performance – a tenth here, a tenth there – but we just weren't in a position to be able to do it from a timing perspective."
"A lot of it came down to, the motor probably was a little bit down on where we needed it to be, but the research and the development and the time to get the motor right would run us out of time [before Gen3 rules came in for 2023], so we did only what we could do. We took all the low-hanging fruit and got that done.
"We'll come from a little way back for the first half of the season because the two homologation teams that have done a great job have obviously been working on the [Gen3] cars; there's little things they'll pick up in the journey.
"We haven't run the car, we haven't got any simulation on the car – so I think these teams will have a bit of a head start on the rest of us, but there's an opportunity to push, and there'll be little things you can tune. At this stage my understanding is you won't be able to tune up as much as you can a Gen2 car."
"So, moving forward now and building a new car with everyone on the same playing field, we're pretty excited about that and our opportunities. We've got what we think are two great drivers and we have a great engineering team, so we think it should give us an opportunity push up as far as we can."