Whincup: 'We're yet to see' Stanaway potential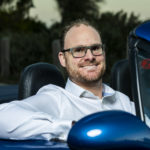 Jamie Whincup says that Richie Stanaway hasn't truly shown what he is capable of in a Supercar and that the onus is on Triple Eight Racing Engineering to unlock his driving talent.
Stanaway was announced today as taking the plumb co-driver seat in Shane van Gisbergen's #97 Red Bull Ampol Racing Chevrolet Camaro for this season's endurance races.
"Triple Eight's ethos is about providing the necessary resources to support talented drivers in reaching their full potential, which I think we're yet to see with Richie. His performance at last year's Bathurst 1000 is a testament to what he can achieve in this sport," Whincup, Team Principal, said.
Stanaway's impressive wildcard effort at the 2022 Repco Bathurst 1000 marked his comeback after a controversial ending to his full-time Supercars career, which saw him 'retire' after a split with Garry Rogers Motorsport in 2019 and depart Tickford Racing after a single full-time season with the at the end of the 2018 season.
The Tickford contract came after Stanaway, in only his fourth Supercars appearance, co-drove the #6 Monster Energy Tickford Ford Falcon to victory at the 2017 Sandown 500 with Cam Waters.
The result supported the promise shown by the New Zealander, who'd competed in the World Endurance Championship with the factory Aston Martin team where he'd posted two victories across five seasons, which followed a promising open-wheeler career including three wins in two seasons of GP3 racing and a GP2 victory at Spa, Belgium, in 2015.
Following the 2017 Sandown win, the move to a full-time campaign at Tickford in 2018 saw results few and far between, with an early contract termination agreed upon.
Peter Adderton then came to Stanaway's aid, with Boost backing to revitalise Garry Rogers Motorsport which saw the shock removal of one Garth Tander, now somewhat ironically, as Stanaway took the full-time GRM seat.
Yet again, the results failed to materialise for the Kiwi, with a chaotic season that saw a Dangerous Driving disqualification at Albert Park, missed races following a neck injury as well as a dramatic benching from the Gold Coast race after missing a team signing session.
He unceremoniously 'called it a day' on his career only hours following the 2019 Newcastle Supercars finale, was highly criticised – with countryman van Gisbergen one of the few to publicly support Stanaway – before a stillborn 2021 Bathurst campaign, scuppered by COVID-19 restrictions, and eventual return at the 2022 event.