Gen3 Supercars predictions 'brave' says Hazelwood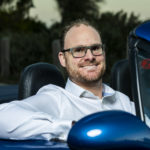 By Damion Smy
Thursday 12th January, 2023 - 6:00am
Todd Hazelwood has told Speedcafe.com that making predictions on form for the 2023 Repco Supercars Championship is fraught with danger given the variables of the new Gen3 Ford Mustang and Chevrolet Camaro.
Gold Coast-based Hazelwood joins Blanchard Racing Team (BRT) for the upcoming season from Matt Stone Racing, replacing Tim Slade as the driver of the CoolDrive Ford Mustang.
The change sees Hazelwood not only switch from Holden to Ford, but also coincides with the arrival of the new Gen3-spec Supercars regulations which focus not only on cost reduction but significantly more driver-engagement with less downforce for greater reliance on mechanical grip.
The Gen3 BRT Mustang Hazelwood will drive is the first all-new Supercar for BRT, with its previous two Mustangs former Tickford chassis, including the ex-Phil Munday Milwaukee Mustang that had been campaigned by Will Davison.
The amount of firsts for Hazelwood has the 27-year-old optimistic yet cautious for his debut season with his new Melbourne-based team.
"The team's done a mega job so far and the job for me is to deliver and get the results in return, but there's so many unknown items about Gen3 [that] I'd be a very brave man to guess where I expect to be placed and how I think I'll go," Hazelwood told Speedcafe.com.
The build of the single-entry BRT Gen3 Ford Mustang was recently revealed publicly by the team, while Hazelwood posted on social media earlier this week his arrival in Melbourne in what was his first visit to the CoolDrive Box Hill workshop. He'd previously driven for Tim Blanchard in the 2017 Pirtek Enduro Cup.
"I'm going to be down here [Melbourne] basically for the first couple of months of the year to try and immerse myself into the team as much as I can and grow that relationship with everyone," Hazelwood said.
"Outside of [BRT owner] Tim Blanchard himself, I haven't worked with any of the guys I'll be working with the whole season.
"Gen3 is a great opportunity for us as a team to start the year strong and, you know, I want to give myself every chance possible of being able to do just that, so, yeah – hence why I've come down early. I'll be in the workshop almost every day leading up to Round 1 with the team, just to try and grow that relationship get that rapport."
Despite last week's imagery from the team of its Gen3 Mustang appearing largely completed while Hazelwood's more recent social post shows the windscreen and various components since removed, Blanchard told Speedcafe.com that the build is on track but remains a challenge as the scheduled February 1 test at Winton Raceway, where New South Wales and Victoria-based teams will first track their Gen3 Supercars, looms.
"We're pushing as hard as everyone to make it, that's definitely our aim," Blanchard said. "There's still a fair bit of work that needs to be done to get over the line for that, but we'll get there – it's out intention to get there, but there's a lot of work that needs to be done."
"Todd arrived yesterday [Tuesday January 10] and he's here for a few weeks to help out, which is really good. It's a mammoth project that every Supercar team is undergoing – it hasn't been without its issues, but we're in as good a shape as we could be for the start of the new season."