Ambrose championship engineer for Cam Hill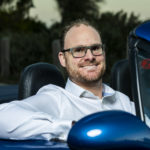 By Damion Smy
Thursday 12th January, 2023 - 11:55am
Ex-Marcos Ambrose engineer Paul Forgie will be race engineer for Matt Stone Racing's Cam Hill for the 2023 Repco Supercars Championship.
Forgie is well known in Supercars circles, having engineered Marcos Ambrose to his 2003-04 titles, and comes from Brad Jones Racing where he'd worked on the team's Super2 campaign before engineering Jack Smith in Supercars.
After driving at last year's Bathurst for PremiAir Racing, Hill moves into a full-time drive at MSR alongside Jack Le Brocq, replacing Todd Hazelwood who has moved to the Blanchard Racing Team.
"I think it's super valuable for a guy like me who's obviously new to the category to have someone with as much experience as Paul," Hill told Speedcafe.com.
"He's obviously got a pretty large bank and has been thorough a few different eras of Supercar racing, so it's definitely going to be super valuable for me to pick his brain as we get up to speed."
Hill sees the seasoned engineer as critical to his first full-time season, providing him with a boost against the more experienced Supercars drivers he'll be racing against at an opportune time, given the transition to the Gen3 Chevrolet Camaro and Ford Mustang.
"I think it's definitely an advantage – if it was a rookie engineer with a rookie driver, that's a mountain to climb," Hill said.
"Paul, he's seen how the cars have evolved over the years, and while of course it's a reset – everyone now needs to figure out what these [Gen3] cars need – it's still a Supercar in its DNA, and so there's going to be things that transfer across directly, and there might be new things as well that we have to get on top of, so having that experience I think is quite key."
The relationship between driver and race engineer is critical to performing in Supercars, and Hill sees Forgie's appointment as part of a long-standing push to perform in his first season at MSR.
"From the outside looking in, people probably don't realise just how important having that relationship with your engineer is," Hill explained. "Speaking the same language and understanding – the engineer needs to understand what the driver likes to get the most out of him, and the driver needs to understand how to communicate what he wants to the engineer, and that sometimes takes some time to get on top.
"We've seen some pretty strong engineer/driver parings where the engineer and driver stay together for their entire career, so everyone acknowledges it's an important aspect of being successful."
"It gives me the best opportunity to start on a level playing field. I'm really confident that, they guys at MSR, they've been building towards Gen3 for the past couple of seasons, they've already sort of had it circled and a lot of effort's gone in, so I'm feeling quite confident that the team's really well prepared. Obviously I've got a really experienced engineer in Paul and we have the T8 [Triple Eight Race Engineering] relationship, so everything's pointing in the right direction."