New DJR boss Noble maps first 100 days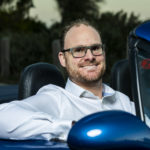 Newly installed Shell V-Power Racing Team CEO David Noble has outlined his plans for his first 100 days at the helm of the iconic Supercars team.
The former AFL administrator, who had been Senior Coach at the North Melbourne Kangaroos AFL Club ahead of his appointment at Dick Johnson Racing, explained to Speedcafe his plans for his first 100 days.
"We want to be the best team in the competition, there's no shying away from that, but it's pretty hard – getting to that pinnacle is tough," Noble told Speedcafe.com.
The team, which is a standout in the Supercars pit lane for its continuity across the organisation, from its personnel through to the liveries of its Ford Mustangs, typically isn't one for great change.
Yet Noble will make incremental changes as he places the talent behind the pit wall, in the corporate stands and ticketholders at the core of his initial management phase.
"We want our people to be [our] number one priority, and within that I think our people, for me, is our staff, it's our partners and it's our fans."
"I think that's the holistic – it's the day to day of the functioning of the business. It's got to be profitable [as] it's privately owned, and we drive success.
"The bottom line is, you know, your executive group provides good work environments; people feel like they want to come to work; our fans feel like they want to support you and come to race and watch you, and your fans are happy that your car's driving around, being successful."
Announced at the 2022 Adelaide 500, the 100-day timeline would take Noble right up the season opener at Newcastle, where the new Gen3 Ford Mustang and Chevrolet Camaro will race for the first time.
Again, Nobles says there's no need for a revolution at the Yatala-based team, with changes made step-by-step.
"I think the good organisations do that subtly. They move forward, they continue to find improvements within their organisation. I think my initial landing will be to get to know our people."
"I'd like to touch base with some our sponsors, introduce myself and meet them – and get to understand the business; be able to pick Ryan's [Story, DJR shareholder and non-Executive Chairman] brains, you know – learn from Brett [Ralph] coming in as a new owner. I've had a couple chances to sit down with Dick and understand the history of the business.
"So those elements for me are really important, and to work our way through as to how we're going to embrace our fans across the country."
This month DJR's ownership change comes into effect following the August 2022 announcement of the Ralph family, who have interests in sporting organisations including the Melbourne Storm National Rugby League Club and Melbourne Aces Baseball Club, as majority shareholder.