Ken Block 1967-2023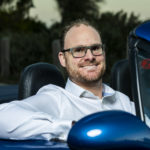 Ken Block wasn't the same as you and me. He wasn't cut of the same cloth as the drivers he battled with in the World Rally Championship, nor those he sparred with in World Rallycross. Anti-establishment and unconventional, Block was far removed from the corporates at Ford, Subaru and Audi who rode off his dazzling performances, skill and imagination that strikes rarely – that of a visionary, an adventurer who lived life to the fullest. He wasn't just a driver. He was an artist, a creator, a savant.
Kenneth Paul Block was born on November 21, 1967, in Long Beach, California, USA and passed away January 2, 2023.
Block started skateboarding and riding BMX bikes at around five years old and grew up listening to punk rock and new wave music while frequenting LA Dodgers baseball games. He also digested magazines on skate- and snowboarding, but also rallying publications where he was in awe of the UR Audi Quattro and its Group B rivals, particularly as they battled to shatter records up Pikes Peak in Colorado. In hindsight, it's clear that this mix of skate/snow alternative culture with its creative rebellious ethos and fascination with rallying that would influence his formative years and shape a stunning life that was truly unique.
His schooling included Orange Glen High School in Escondido, where his family ran an avocado farm, and then San Marcos' Palomar College in North San Diego.
As a teenager, he ran in amateur-level motocross, but it was Block's ambition to become a professional snowboarder saw him move to resort town of Breckenridge, in the Rocky Mountains of Colorado – around two hours' drive from Pikes Peak, where he'd perform behind the wheel decades later with his impressive skills up the famous hill climb layout.
Block returned to Southern California to study graphic arts and design, something later apparent in the liveries and designs of both the cars he drove and his apparel brand. While studying, Block began printing t-shirts featuring skate and snowboard designs among a number of creative pursuits that even included a magazine where he worked on layout and experimented with photography.
It was here that he first collaborated with Damon Way. In 1994, a $10,000 loan from his parents was used by Block to start DC Shoes Co in partnership with Way. DC Shoes produced skate and snowboarding footwear and apparel and was a huge success that lead to its purchase by surf brand Quiksilver in 2004. It was at this time, Block has reflected, that both he and Way – having started DC Shoes as men in their 20s – were beginning to start families and were looking to move on. They both worked for and remained associated with the company at the time of Block's death in 2023.
The same year as DC Shoes was sold, Block embarked on an even bigger life changing journey: motorsport. In fact, it was DC Shoes that provided that intersection. Among the brand's athletes was one Travis Pastrana. Block's love of rallying had been stemmed earlier in his life, somewhat, by the World Rally Championship's European roots. Watching Audi, Lancia, Peugeot in the 1980s and the Subaru and Mitsubishi the following decade, all operating out of bases across the Atlantic.
"I thought, 'Okay, that's a European thing. I'll never be able to get to do that'," Block told Matt Anderson in an interview for The Henry Ford museum in 2019. "It wasn't until Travis Pastrana did some rallies in the States in 2004 that I realised there was even a Rally championship in America."
That year, Block had attended the Team O'Neil rally school and also married his wife Lucy. DC Shoes had begun making product around Pastrana and it was the inspiration that Block needed to forge the career ahead.
"I just went along in 2005 with him to go out to race the Rally American Championship just for fun and it was like, 'Hey, here's one of our top athletes at DC. Here's something I've always wanted to do all my life, and I can go out and combine all these interests and in a company thing in DC, and go have fun, sure. Let's go do that,' you know?" Block told Anderson.
"From 12-years-old on, I enjoyed riding and racing dirt bikes so for me, Rally was kind of a version of that. That was the car version of racing that sort of way. They were the cars that slid and jumped and went through snow and all sorts of different conditions and that's what really just appealed to me.
"It was that aggressive nature of how I rode a dirt bike but translated into a car. So, ever since I can remember, I liked Rally, I wanted to do Rally, and when I got my own keys to do my own cars I lived on a twisty, windy road out in the middle of nowhere, and that was the driving style that I mimicked."
Winning Rookie of the Year in the 2005 Rally America National Championship and placing fourth overall saw Block become serious about his rallying career, having discounted himself given he was 37 years old when he'd made his debut. He raced with the number 43, which he'd explained was simply his favourite number as a kid that he'd used on his first dirt bike.
While a successful rally driver, mixing it with and occasionally beating Pastrana to claim a national level win in 2006, Block had great success in X-Games and Rallycross, as well as World Rally Championship efforts between 2010-14 that made Block a rare American success in the sport. Yet it was his unique blend of his passions – skate/surf/snow culture, graphic design and rallying – that captured the imagination of enthusiasts globally. Block's combination of mesmerising car control blended with obtuse, surreal and oft seemingly preposterous feats hit the motoring world for six with the original 'Gymkhana' posted in September 2008 as a promotion for DC Shoes.
The first gymkhana video, 'DC Shoes: Ken Block Gymkhana Practice', was published on Block's own website which he had to take down, citing hosting costs after millions of views. It was reposted on DC Shoes' YouTube channel where it has since recorded 16-million views.
Commencing with the unmistakable warble of the Subaru Impreza WRX's boxer engine, the calm is shattered by a burst of acceleration across the airfield before the blue WRX STI is thrown in a deliberate high-speed (almost 180km/h) drift – constantly teetering on the edge of adhesion before a series of circus-like stunts around barriers, barrels, through hangars and across railway tracks – and the famous donuts around a person on a Segway.
"It only took me a couple of hours to come up with the course, and most of the ideas have been in my head for years, like trying to do moving donuts. All that stuff just kind of came together," Block said in a DC Shoes promotional interview on the first anniversary of Gymkahana1 (wearing a Colin McRae t-shirt in typical fashion). "Everything I do in gymkhana videos is all basic rally skills; it's everything I've learned."
Yet it wasn't just this video: Block went on to make 10 Gymkhana films and countless associated clips, with Travis Pastrana taking over the franchise in 2020. The latest posted only three weeks ago with nearly 13 million views in that time.
Block's ability to reinvent himself, like a successful musical artist, saw gymkhana footage themed, stunts change become more elaborate and the vehicle liveries become more ornate, props seemingly impossible.
"Yeah because of my background, I have a brain that just kind of works in a funny way that I have a hard time turning the creativity side of things off, and I like to look at everything from, you know, funny cat videos to snowboarding – you know, and sort of how people are creative in all these different markets and all these different ways. So really, the creativity side of making the Gymkhana videos, a lot of it is inspired by skate and snowboard video parts."
Backing from Ford in 2009 saw bigger budgets and gave Block more scope as he switched from Subaru to Fiesta for Gymkhana Three with his epic footage the benchmark for others globally, typically out-ranking Superbowl commercials and being some of the most watched videos on the internet – not just among automotive clips, either. Combined, they total nearly a billion views – his final Ford video, after the company parted ways, currently sits at 5.8 million views.
The footage created such a stir that Block made spin-offs including a Director's Cut – where he shows him hitting the wall in Gymkahana1, showing his eternal humbleness and gratefulness for the success of it. "I'm a lucky bastard," he would often say. He started a Gymkhana World Tour, taking his show on the road globally and carving more deeply into a niche entirely of his own creation, with a documentary series produced in 2018. He was simply having fun.
From Gymkhana One's abandoned airfield, by Gymkhana Five Block was granted access to the streets of San Francisco where the iconic Bullitt was shot – something he was hugely grateful and proud to be able to do – while embarrassingly for Australia, his plans to film Gymkhana Nine down under thwarted.
"The police down there [Australia] started to make things difficult with the permitting process for the locations we were trying to secure, both public and private," Matt Tuccillo from Block's team said to website Jalopnik.
"Apparently we were going to be 'bad' for Australia and as we got closer and closer to filming we started to lose more and more locations that we had secured, ultimately forcing us to abandon the concept."
Instead, Gymkhana Nine took place in New York.
Block's image, especially the Hoonigan Industries name – which he created in 2010 – may well have had him starting on the back foot with the Australian authorities.
"The word 'hoon' is basically similar to our laws here in America of reckless driving. So if someone were to say, 'Oh, you were hooning,' in Australia, that would mean you were out doing something reckless with a car," Block explained to Tim Ferris in 2019.
"But once that term made it over to America, it became a term of endearment like, 'Oh, you're out having fun with a car. Great.' Whereas, if you are reckless driving here, it would be like, 'Oh, you're going to get a ticket.'"
The clips also saw iconic vehicles produced, from the original WRX STI through to Hoonicorn Mustang and Audi S1 E-Tron Quattro Hoonitron for 'Elecktrikhana' – Block never stopped evolving. After an 11-year association with Ford, the move to Audi in 2021 enabled Block to tap into his UR Quattro passion which continued with his daughter Lia, who in the days before his passing revealed her own upgraded to the vehicle she'd worked on with her late father. In 2022, she and her mother, Block's wife Lucy, had competed as Ken had in the 2022 American Rally Association Championship.
Ken Block made driving fun; creative, artists – an act of expression. Away from the rigours and regulation of racing, or the road, and the bounds of the laws of physics, Block saw blank canvases where no one else dared to look and, Salvador Dali-like, melted his mix of art, passion and pure love for driving into an experience that he shared with the world. It was pure joy, unadulterated raw fun. Block was not a chip off the old – he was a virtuoso, just having fun, and the entire world caught his enthusiasm.