Special cause behind Percat's unique helmet design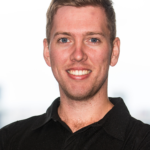 Monday 22nd February, 2021 - 7:55pm
Nick Percat has revealed a one-of-a-kind helmet that he'll don at this weekend's Repco Mount Panorama 500.
The Brad Jones Racing driver has joined forces with Guide Dogs Australia to raise funds for its Victorian division.
The helmet features the paw prints of two guide dog puppies in training as well as his own dog, Nelson.
"It takes two years and over $50,000 to breed and train a guide dog," said Percat.
"All proceeds of the auction of the helmet go directly to guide dogs to help people with low vision or blindness and achieve independence."
The auction will run from February 22 to March 1.