Reynolds eager to learn more after 'first day of school'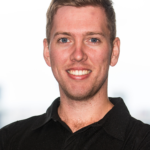 Saturday 20th February, 2021 - 6:00am
David Reynolds says he wants to learn more about his Ford Mustang after his first proper hitout in it at Winton Motor Raceway.
The Kelly Grove Racing driver completed his first fast laps with the team today, setting the second quickest time by midday.
Reynolds was joined by team-mate Andre Heimgartner and former full-timer Rick Kelly in the test day, which saw six other teams on track.
For Reynolds, who had his first drive of the #26 Mustang at a recent ride day, it was a chance to cut his first laps in anger.
"Now that I've had an official test day I have learnt that I probably need to learn more," said Reynolds.
"Obviously this test day is all about getting me up to speed with the car. We had a ride day a few weeks ago and that was the first introduction, but this is the first time I've actually been allowed to put a time on myself and realise the limits of the car and I'm trying to push it.
"It's all about just understanding myself and the car and the team. It's the first day of school really."
Reynolds left Erebus Motorsport in the off-season after a five-year spell at the team.
He had been signed on a 10-year contract, which began in 2020, but ultimately the relationship between he and the team broke down just one year into the monster deal.
Reynolds has been followed to Kelly Grove Racing by engineer Alistair McVean and crew chief Dennis Huijser.
"Alistair and I are very much enjoying the Mustang so far," said Reynolds.
"At the end of the day, we're all here with the same goal, trying to win races. It's really nice to have a good bunch of people around us that really want to have the same common goal.
"We're striving to win races. We understand it might take a little bit to get there, but we're up for it."
Reynolds' first competitive outing with the team will be the season-opening Repco Mount Panorama 500 across February 26-28.
The 35-year-old said he's heading to the Mountain with a lot of optimism despite being in a new environment.
"I actually feel pretty comfortable," he said.
"Bathurst is one of those places where it's going to be very difficult to roll up in a new car and new team and do a brilliant job. It's going to be very, very hard, but we're up for the task.
"You've got to understand going from my perspective, a new team, new car, everything is completely different. Everything I touch, feel, look, is completely different.
"It's going to be a big challenge but I think we're all going to be up for it."