Johnson draws parallels between McLaughlin, De Pasquale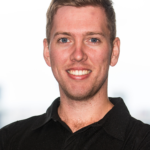 Wednesday 10th February, 2021 - 6:00am
Dick Johnson says he can see similar traits between three-time Supercars champion Scott McLaughlin and the team's newest recruit Anton De Pasquale.
The 25-year-old joins the team off the back of his third season with Erebus Motorsport in which he finished eighth in the drivers' championship.
The Victorian claimed his first championship race win at Hidden Valley Raceway in 2020, following it up with a podium finish at The Bend Motorsport Park a month later.
For Johnson, De Pasquale was an obvious choice among the up-and-coming drivers that were on the market.
"Anton is a young guy that we've been keeping our eyes on for quite some time," said Johnson.
"In my eyes, I think he's in about the same position as what Scotty was in in 2017 when he came to us.
"With all these young guys, and even the older ones like poor old bloke Will, you have got to put the right people around them.
"I know for sure that we have all the right people to get the absolute utmost out of these drivers.
"I think you'll find that they won't say anything different to that because the people that they'll have around them will be the best that there possibly is."
Asked by Speedcafe.com what shared characteristics he sees in McLaughlin and De Pasquale, Johnson said, "Their attitude and their absolute passion for what they want to do.
"It's not only about the driving, it's about the personal presentation. You've got to put these guys in the boardroom, you don't want a knucklehead that does dumb things.
"I thought he was the standout of all the young guys."
De Pasquale will be engineered by Ludo Lacroix in his first season with the team, the same engineer who was behind McLaughlin for the first of his three championship wins in 2018.
Johnson believes that having the right people around De Pasquale will net him similar success to that of McLaughlin.
"Like Scotty, he had flashes of brilliance coming up in his career, but once you get everything around them and they believe in you, man it makes a huge difference and I think that's what Anton can do," said Johnson.
"Scott, before he came to us, he had results, but they were scattered. They were good and bad. They're only as good as the people around them. Once Scotty got the good people around him that he actually really believed in, it just made a bloody huge difference.
"Driving is not only a physical thing, it's a mental thing as well. If their head is not in the right space, they will choke. Scott isn't like that, nor is Anton."
De Pasquale and Davison will shake down their new Ford Mustangs at Queensland Raceway today.