Briscoe, Dixon join WTR's 2020 IMSA line-up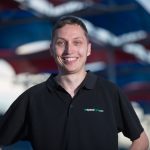 Wayne Taylor Racing has drafted Ryan Briscoe and Scott Dixon into its 2020 IMSA WeatherTech SportsCar Championship driver line-up.
Briscoe has landed a full-time drive with the WTR squad having been a part of the Ford GT Le Mans program with Chip Ganassi Racing for the last four years.
The 38-year-old Australian will join Renger van der Zande as one of the full-time drivers in WTR's #10 Cadillac DPi.V-R, with the pair joined by five-time IndyCar champion Scott Dixon and former Formula 1 driver Kamui Kobayashi for Daytona, Sebring, Watkins Glen and Road Atlanta endurance races.
"I'm really excited to be joining WTR," said Briscoe. 
"I've always had so much respect for the organisation. They've been so successful and are one of the most committed teams in the IMSA WeatherTech Championship.
"It's an honour to join them as one of their full-time drivers. The Cadillac DPi is a fantastic machine and I can't wait to drive it."
The announcement will see Dixon reunited with Briscoe for IMSA's endurance races having partnered the Australian in Ford's GT program that is coming to an end.
"With the Ford GT program coming to a conclusion in 2019, the opportunity with Wayne Taylor Racing became available, and it's something I'm really excited about," said Dixon.
"I've always loved racing Prototypes and to get back to the top class is something I'm looking forward to, for sure. Wayne and his team run a very strong program and have been proven contenders for years, now.
"Ryan and I obviously have a long history together, so I think that will be important, as well, to get a fast start. I'm looking forward to teaming up with Renger and Kamui and hope to contribute to the overall success of the No. 10 car."
The 2020 IMSA WeatherTech SportsCar Championship will begin with the annual Daytona 24 Hours from January 25-26.