Whincup reveals motivations to join Supercars Commission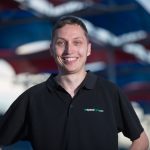 Jamie Whincup says the challenges Supercars has faced with parity and sustainability played a part in his motivation to join the Supercars Commission.
The seven-time Supercars champion was voted on to the commission which helps decide regulations for the series on a two year tenure during the championship's annual general meeting on Thursday night.
Whincup was nominated for the role by Triple Eight boss Roland Dane although the driver says he has been contemplating a bid to join the Supercars Commission for six months.
Joining the commission is yet a further extension of his growing Supercars commitments after buying a 15 percent stake in Triple Eight last year.
The 36-year-old says his motivation for the move is to try and 'make the sport better' while admitting that the challenges the sport is facing over achieving parity and sustainability forced him to take action.
"My plan is to attempt to make a difference," Whincup told media.
"Now I don't want to disrespect the people that are there, they are highly qualified people doing a fantastic job. 
"They're doing such a good job that I'm not going to be able to make a massive impact, but I'm hoping to be able to make a difference. 
"The last thing I want to do is blend in and cruise along for the next two years and not actually achieve anything. I want to get in and try to make a difference or get told to piss off.
"That's much better than just blending in and sort of doing nothing.
"I don't want to go into the negatives, all I'll say is that I feel like the category is in one of its most challenging years from the last four or five years. 
"Things like GRM pulling out, going back to two manufacturers, I've never spoken this much about parity in all my life like this year. 
"So it would be great to be a part of the bigger team to change the trajectory a little bit and make sure that we've got one of the best sporting codes in the country.
"I want to be part of ensuring that we've still got a sport. And not only that, making sure we've got a really good sport. 
"And if the economy does get tough at some stage, and the consumer that goes to 10 sporting events in a year can only do two, I want to make sure at least one of them is a Supercars round so they can experience what it's all about."
He also believes that having a driver on the Supercars Commission will prove to be a benefit for the sport when it comes to making decision for the future.
"I think it's good to have that perspective from a driver, not necessarily to fix the problem, because we're not the most intelligent people getting around, but to at least ask the right questions to the engineers to make sure we've got the full picture so as a group we make the right decisions," he said.
Although associated with Triple Eight and nominated by Dane, Whincup is adamant he won't be a mouthpiece for the team, to the point he wrote a letter to teams to address any such concerns they had before standing for election.
"I wrote a very detailed letter to all the team owners and one of my points, right in the middle of the letter, was 'I'm not Roland, I'm my own person, I'm not going to play a puppet for RD (Roland Dane)'," he added.
"But at the same time, while I have massive respect and value RD's opinion, I've got my own view.
"The opinion that I bring to the table to make a decision will be my own.
"I believe I've got a fairly good grasp of what goes on all the way down pitlane.
"But I'll have to accelerate that 10-fold in the next six months to really understand the whole picture of pitlane is.
"I just want to dismiss any thoughts my motivation is to help Triple Eight."
While new to the role Whincup has already outlined his agenda. 
"The first thing I'll do is go through the last three years of Commission notes to find out how we got here and understand what we're trying to sell," he added.
"Why is this grandstand full? Why are they (the fans) here? Are they here because it smells good? Are they here for the noise? Are they here for the actual competition? Are they here because we're doing something extraordinary that they wouldn't do themselves. Or is it a combination? Is it just a good sporting event and good atmosphere to be around?
"My agenda is to understand what we're really selling, the history of what we've really got, then I'll make a plan on how to attack the weakest parts."
Whincup's inclusion on the Supercars Commission sees him join Supercars CEO Sean Seamer, Brad Jones (Brad Jones Racing), Tim Edwards (Tickford Racing), Shane Howard (Supercars COO), Adrian Burgess (Supercars Head of Motorsport) and Ryan Story (DJR Team Penske).