Waters: Mostert clash 'pretty s**t for the team'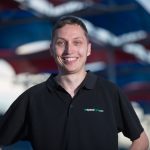 An 'absolutely gutted' Cameron Waters has labelled another intra-team clash with Chaz Mostert as 'pretty s**t' for Tickford Racing, with the incident ending the duo's Supercheap Auto Bathurst 1000 podium hopes.
The team-mates made contact while fighting over third position at The Chase on lap 123.
Mostert locked up while following Waters, unsettling the car as he attempted to make a pass around the outside of the #6 Monster Energy Mustang.
The cars then made side-to-side contact, resulting both Mustangs spinning into the gravel trap and causing a Safety Car.   
It is the second time in as many events that the pair have collided with an incident at Pukekohe.
The entries came to blows at last year's Bathurst 1000 when Mostert and the #6 then co-driver David Russell were at the wheel.     
"Just absolutely gutted. Got no words really; just disappointing," said Waters. 
"It's just s**t. We were trucking along for a podium, we were fuel saving. 
"Chazzie was obviously trying to race me to pass me, he was meant to be fuel saving and I don't know, he's just made a mistake. 
"I just don't know what to say, the car was fast, we should have been on the podium.
"It's a common occurrence between us. 
"It's just s**t, it's s**t for the team really because they put in so many hours. They deserve so much better than that. 
"We should have been up there, we should have had one car, maybe two cars on the podium today and we've ended up both in the dirt. (It's) pretty s**t for the team."
Stewards investigated the incident which resulted in Mostert being handed a drive-through penalty.
Both cars are still in the race with Mostert a lap down while Waters rejoined the race on lap 136.