GRM facing Supercars exit after sponsor ultimatum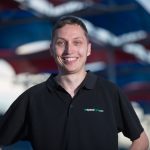 Garry Rogers Motorsport is prepared to leave Supercars if the category fails to introduce a control upright for the 2020 season.
The ultimatum has arrived courtesy of the Melbourne team's naming rights sponsor Boost Mobile, which has stipulated that it will exit the sport if Supercars fails to meet its demands.
Boost Mobile had inked a two-year deal with GRM but has been frustrated by the lack of parity across the grid.
The boss of the telco, Peter Adderton, met with GRM bosses Garry and Barry Rogers today where he notified the squad of his wishes for next season, which come just a week before Supercars' Racing Entitlement Contract entry deadline.    
Adderton has acknowledged the changes made by Supercars to benefit teams that include reduced downforce, control dampers and drop in engine power to save costs to teams.
However, he believes the front upright is a vital component that needs to be made a control part.
"We have made it clear to the teams we are talking to, including Garry and Barry, that unless there is a control front upright we are not in the sport," Adderton told Speedcafe.com.
"Sean (Seamer, Supercars CEO) tells me he's going to change the upright in 2021 but we want it done in 2020. Next year we want a truck with uprights and teams just go and choose them.
"We are not going to spend millions of dollars in a sport that we can never win. 
"If our driver on the day is the 18th fastest driver and he is the 18th fastest driver in his ability then he deserves to be 18th, but he shouldn't be 18th because he doesn't have millions of dollars thrown at him in his car. 
"Everyone tells me they are going to do the damper and the aero which are all good things but it is the upright and we are in the sport; don't change it we will stand down."        
Barry Rogers confirmed to Speedcafe.com that the team will go along with Adderton's demands and is prepared to stick with Boost Mobile and its current line up of James Golding and Richie Stanaway for 2020 if Supercars offers up a control upright.
Rogers admits the team could go in search of a new title sponsor but the rapidly approaching REC deadline makes this process challenging, leaving the squad facing the prospect of a Supercars exit.
"We've been saying that probably our 2020 entry's been dependent on what Boost decide to do and we had a meeting with him (Peter) today and he said that they're on, they want to continue with us, on the proviso that there was a control upright in the sport," Rogers told Speedcafe.com.
"If there's no control upright, they're exiting the sport, so that's what he told us. So whether that can get mandated by next Friday, because the RECs are due next Friday (who knows).
"He's told us,'I'm in, done', same drivers, Stanaway and Golding, same everything, (if there is a) control upright, or 'We're gone', so we accepted that.
"If it don't happen, we're out."
Asked if he would hand back the two RECs, Rogers replied, "We will.
"Someone will do something. We don't know. Lease them or do something.
"We'll try (and find a new sponsor), but you're not going to find one between now and next Friday, you've got to make a decision, don't you.
"Garry's invested a lot of money into this over the years as we know, and we still contribute quite a bit of our own money to do what we do each year.
"We certainly count on that naming rights type partner to get you close to the line of what you need to run a team. 
"It's a multi-million dollar business, as we all know, and we've been upfront the whole way through: if we've got them onboard, we're in; if they're not, we're out."
GRM has been a stalwart of the Supercars paddock having joined the Australian Touring Car Championship in 1996.   
The squad is confident it will be able to stay afloat with its programs in TCR Australia and S5000.