Davison S5000 car repairable after Sandown crash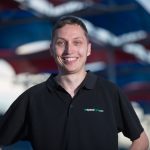 S5000 technical partner Garry Rogers Motorsport has confirmed Alex Davison's Team BRM chassis is repairable after suffering a major crash in the category's inaugural feature race at Sandown.
Davison escaped unscathed from a high speed crash on the back straight at the Melbourne circuit which forced organisers to call the series' first, 25-lap feature race after 10 laps.
The Team BRM driver was tapped in the rear by Matthew Brabham which triggered a spectacular crash that marred a successful debut for the new V8 open wheel formula.
Davison's car suffered a heavy impact with the inside wall before spearing across the track and collecting the outside wall, which appeared to cause significant damage.
However, upon inspection, GRM says the chassis, one of 14 brand new S5000 cars built by the firm, is not a write-off.
Team director Barry Rogers admitted he was impressed by how the Onroak-Ligier withstood the high-speed impact.
"People always question the safety factor of a high powered open wheeler and it was a big hit for Alex and unfortunately we had one at Phillip Island the other day," Rogers told Speedcafe.com.
"We are really impressed with how the cell has held up and it is well and truly fixable given there have been some bolt on parts torn off of it.
"It looks a lot worse than probably what it is. It is not major.
"The gearbox and everything is intact and all those bit and pieces that have been ripped off are all made at GRM so we will keep the fabricators busy."
While the crash put a dampener on a successful debut, Rogers hailed the weekend as a tremendous achievement for the squad having built and developed the S5000 product.
"We geared ourselves up to be able to do this project. We really wanted to use the prowess of our fabricators, our composite guys and many other Australian companies in building these cars. We have a lot of people to be thankful to," Rogers added.
"When I look at those 13 brand new cars out there we had not one mechanical failure, one lost fuel pressure, but we didn't have an oil leak, gearbox problem or electrical gremlins.
"Everyone should be so proud. People were saying that we needed to get parts from Europe and to Garry's (team owner Garry Rogers) credit he stood firm and said we should try and do it locally.
"It is a really tremendous achievement."
The S5000 series proved a hit with fans as a bumper crowd headed to Sandown to witness the category's first race meeting.
GRM's James Golding was declared the winner of the main race from former Formula 1 star Rubens Barrichello.
Golding also won Qualifying Race 2 while Tim Macrow took the spoils in the first heat on Saturday.
The series heads to The Bend Motorsport Park next from November 15-17.
VIDEO: S5000 Feature Race Highlights