Seven closing in on TCR, S5000 broadcast deal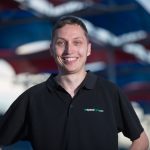 Seven is understood to be closing in on a deal to broadcast TCR Australia and S5000 next year.
Speedcafe.com understands the free-to-air television network is keen to add to its motorsport portfolio, with talks between the broadcaster and the Australian Racing Group, promoter of TCR Australia and S5000, in the final stages of negotiations.
Seven's motorsport coverage is currently built around the annual Liqui-Moly Bathurst 12 Hour with the entire race shown live through its 7mate channel.
However, it is understood talks between ARG and Seven regarding TCR Australia and S5000 started earlier this year and have continued after ARG non-executive director James Warburton took up the CEO role at Seven West Media in August.
ARG director Matt Braid says that no deal has yet been signed, but that talks are 'positive'.
Stan Sport is the only way to watch every round of the S5000. Click here for all the action streaming ad-free, live and on demand.
"Obviously we're currently with SBS, who have done a fantastic deal with us and job with us promoting TCR in its first year," Braid told Speedcafe.com.
"We've had interest from other networks, we're in multiple conversations, nothing's signed yet, but there's positive conversations all-round, which is great for the category, and we're looking forward to announcing something probably in the coming weeks or months."
When asked directly if Seven was among the parties which ARG was talking to, Braid simply said, "Yep."
Suggestions Seven could be in the running to secure a deal with ARG arose following Warburton's move, while the former confirmed to Speedcafe.com the promoter was in talks with various broadcasters for next year.
Currently ARG has a television deal in place with SBS which has shown every race of the new TCR Australia live.
The deal has been expanded to broadcast the new S5000 single seater series at Sandown this weekend and at The Bend Motorsport Park in November.
"We set out when we had TCR to push it as far and wide as we could to try and attract as many fans as we could," added Braid.
"It's a market-relevant category, we wanted to push it out to the market, as much as we could, without restricting access to fans, so we're very proud of that.
"SBS have provided that for us and, again, now that it's demonstrated the product, fans are interested in it, sponsors are interested in it, manufacturers are interested in it, and now it's a case of 'Where to next?'
"If the opportunity's there to have an even bigger, better product on free-to-air, then fantastic for us, we'd be very positive."
A successful start to TCR Australia and S5000 will have made the categories attractive to Seven in addition to the news that ARG has won the right to host a TCR enduro at Bathurst in December next year.
"Look, it's Bathurst, right, so everything that's got Bathurst attached to it is a big property," observed Braid.
"You'll see TV interest in any Bathurst event is very strong, so that's all part of those discussions."
Warburton says expanding Seven's motorsport coverage to TCR, S5000, Supercars and even Formula 1 in the future could be valuable for both the network and the sport.
"Whether we are promoting the Erebus Kiss Supercar or Rubens Barrichello who happened to be in an AFL changing room (on Friday night), the power of the Seven brand across its assets is what motorsport partners really like," Warburton told Speedcafe.com.
"We promote across the assets so we think we are a good partner, but for a deal it has to commercially stack up regardless of the sport.
"Motorsport is a great opportunity and a good revenue opportunity for the network."
Historically, Seven has had the dominant presence in domestic Australian motorsport telecasting.
It was the long-time rights holder of the Australian Touring Car Championship and Bathurst 1000 until Network 10's initial, 10-year run, then held the free-to-air rights to Supercars again from 2007 until 2014.