Golding wins as Davison crash shortens S5000 feature race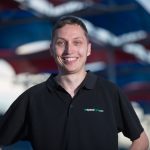 James Golding has been declared the winner of the maiden S5000 feature race after a heavy crash for Alex Davison forced officials to shorten the encounter at Sandown.
The category's 25 lap heat ended prematurely when Davison suffered a high speed crash on Lap 9 shortly after the third Safety Car restart.
Davison fired into the inside wall on the back straight at high speed causing significant damage to the car, which eventually came to rest on the other side of the track.  
The Team BRM driver was able to walk away from the wreckage but damage to the barriers forced organisers to call the race.
In the end, Golding took the win from Rubens Barrichello (Team BRM) with John Martin (AGI Sport) in third.    
Stan Sport is the only way to watch every round of the S5000. Click here for all the action streaming ad-free, live and on demand.
Macrow led the field away but all eyes were on Barrichello, who made a strong start to jump from fourth to third, as the former F1 star drove around a slow starting Martin.
Will Brown was the next to make a move and it was an eye opener when the Eggleston Motorsport driver produced a stunning move around the outside of Davison (Team BRM) to take fifth.
The race was soon neutralised when Ricky Capo sustained damage and found himself stranded on the infield. 
Drama unfolded on the restart when race leader Macrow locked his right front and spun the MTEC Motorsport at Turn 1, while behind, Barton Mawer spun on his own.
The incident brought out the Safety Car for a second time as crew recovered Macrow's car.
Macrow's moment handed Golding the lead with Barrichello in hot pursuit with Martin in third.
The Safety Car was deployed for a third time just moments after the second restart when Davison found the wall which was the final moment of the race. 
Newly crowned TCR Australia Series winner Will Brown was classified in fourth ahead of Matthew Brabham (MTEC Motorsport), Tim Berryman (Team BRM), Taylor Cockerton (MTEC Motorsport), Tom Alexander (AGI Sport), Barton Mawer (Milldun Motorsport) and Michael Gibson.
S5000 will return at The Bend Motorsport Park from November 15-17.
Results to follow.