Girolami steers clear of chaos to win TCR Aus Race 2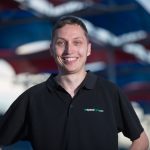 Nestor Girolami avoided plenty of chaos behind to take a second victory in a twice interrupted TCR Australia Race 2 at Sandown.
The WTCR driver was one again largely unchallenged as he led home Garth Tander (Melbourne Performance Centre, Audi) and James Moffat (Garry Rogers Motorsport, Renault) in an action packed heat at the Melbourne circuit. 
Girolami made no mistakes from the start as he converted pole position into the lead while Jordan Cox slotted into second and John Martin (Wall Racing , Honda) jumped to third.
Series leader Will Brown bogged down at the start, dropping from second to sixth in the #30 HMO Customer Racing Hyundai. 
Moffat was among those to make a strong start to leap into fourth while Russell Ingall (Melbourne Performance Centre, Audi) found himself in seventh after starting from 12th.
Stan Sport is the only way to watch every round of the TCR. Click here for all the action streaming ad-free, live and on demand.
At the front, Cox soon latched onto the rear wing of Girolami while Ingall slid by Melbourne Performance Centre team-mate Garth Tander for sixth at Turn 6.
However, green flag racing was short-lived with the Safety Car deployed on Lap 3 after two separate incidents.     
Contact between Bryce Fullwood (Kelly Racing, Opel), and Nathan Morcom left the latter stranded in the Turn 9 gravel trap.
Moments later Ingall lost control of his Audi, spinning out of sixth and into the gravel trap at Turn 1.
Girolami was challenged by Cox when racing resumed on Lap 7, but the latter lost the rear and compromised himself for Turn 4, running across the grass on consecutive laps.    
The first occasion saw Cox lose second to Moffat while the second saw the Alfa Romeo driver rejoin the track and make side-to-side contact with Martin.
The touch forced the Honda driver to the pits and into retirement with a broken steering arm.
Officials neutralised the race again when Alexandra Whitley (Alliance Autosport, Volkswagen Golf, was stranded on the back straight.
Girolami nailed the restart but the same could not be said for Moffat who made an error at the final corner.
That allowed Tander to take second spot while Cox ran wide again at Turn 1.
Action continued until the final lap when Andre Heimgartner (Kelly Racing, Opel), in fifth, nudged Cox into a spin at Turn 4.
While there was plenty of action, Girolami cruised to the chequered flag ahead of Tander and Moffat.
Heimgartner came home in fourth ahead of Tony D'Alberto (Wall Racing, Honda), Aaron Cameron (Melbourne Performance Centre, Volkswagen) and Jason Bright (Alliance Autosport, Volkswagen).
After struggling for pace, Brown edged title rival Dylan O'Keeffe (Ash Seward Motorsport) for seventh at the finish as Fullwood and Liam McAdam (Melbourne Performance, Audi) rounded out the top 10.
Results: TCR Australia Race 2, Sandown
Pos
Num
Driver
Team
Car
Laps
Time
1

 

 

38
Nestor Girolami (ARG)

 

Wall Racing

                   

Honda Civic Type R

 

16
27:56.5831
2

 

 

3
Garth Tander (Vic)

     

Melbourne Performance Centre

 

Audi RS 3

           

16
27:58.1699
3

 

 

34
James Moffat (Vic)

     

Garry Rogers Motorsport

       

Renault Megane RS

   

16
28:00.6912
4

 

 

50
Tony D'Alberto (Vic)

   

Wall Racing

                   

Honda Civic Type R

 

16
28:02.7805
5

 

 

2
Aaron Cameron (Vic)

   

Melbourne Performance Centre

 

Volkswagen Golf GTI

 

16
28:03.8178
6

 

 

8
Jason Bright (Vic)

     

Taskforce/Melb Performance Cnt
Volkswagon Golf GTI

 

16
28:04.2009
7

 

 

30
William Brown (Qld)

   

HMO Customer Racing

           

Hyundai i30N

       

16
28:04.4301
8

 

 

9
Dylan O'Keeffe (Vic)

   

Ashley Seward Motorsport

     

Alfa Romeo Giulietta
16
28:05.7813
9

 

 

62
Bryce Fullwood (NT)

   

Kelly Racing

                 

Holden Astra

       

16
28:05.9880
10

 

 

97
Liam McAdam (Qld)

     

Melbourne Performance Centre

 

Audi RS 3

           

16
28:06.3126
11

 

 

33
Chris Pither (NZ)

     

Garry Rogers Motorsport

       

Renault Megane RS

   

16
28:12.2172
12

 

777
Andre Heimgartner (NZ)

 

Kelly Racing

                 

Holden Astra

       

16
28:32.2499
13

 

 

7
Jordan Cox (NSW)

       

Garry Rogers Motorsport

       

Alfa Romeo Giulietta
16
29:03.3031
14

 

 

11
Nathan Morcom (NSW)

   

HMO Customer Racing

           

Hyundai i30N

       

15
28:12.6142
DNF

 

24
John Martin (NSW)

     

Wall Racing

                   

Honda Civic Type R

 

 

8
14:54.7294
DNF

 

35
Alexandra Whitley (Qld)
Melbourne Performance Centre

 

Volkswagon Golf GTI

 

 

8
15:00.1962
DNF
100
Russell Ingall (Qld)

   

Melbourne Performance Centre

 

Audi RS 3

           

 

2

 

2:46.7671