Brown claims TCR crown, Girolami completes sweep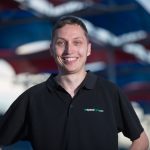 Will Brown has become the inaugural TCR Australia Series winner as Nestor Girolami completed a clean sweep of Round 6 with victory in Race 3 at Sandown.
The HMO Customer Racing driver endured an eventful race at Sandown that saw him spin at Turn 2 on the opening lap that handed a lifeline to title rival Dylan O'Keeffe (Ash Seward Motorsport).    
However, Brown managed to recover to eighth which was enough to secure the title after O'Keeffe (Ash Seward Motorsport, Alfa) could only finish 11th following an error of his own at Turn 9 on Lap 4.
Ultimately the incident handed the Brown the series with a round remaining at The Bend Motorsport Park in November. 
"It feels awesome. It's a bit bitter-sweet after fencing it by myself, but we fought back and I was able to pass a few people and get there," said Brown, who has scored six race wins this season. 
"I can't thank the boys from HMO Customer Racing enough. 
"I got a really good start and then absolutely put it in the fence myself. That was disappointing."
While Brown celebrated the title success, Girolami (Wall Racing, Honda) stamped his authority on the meeting as the WTCR driver wrapped up Race 3 despite coming under race long pressure from Garth Tander (Melbourne Performance Centre, Audi).   
Girolami streaked away at the start with team-mate Tony D'Alberto with Tander in third, but it wasn't long before the order changed.
Tander managed to pass D'Alberto for second on Lap 2 with the Audi driver going on to apply pressure on Girolami.
D'Alberto held third until Lap 13 when Andre Heimgartner (Kelly Racing, Opel) managed to find a way through to the final podium spot, although the move is understood to be under investigation.    
Heimgartner went on to take third at the flag for Kelly Racing's first TCR podium.
D'Alberto crossed the line in fourth ahead of Jason Bright (Alliance Autosport, Volkswagen).
Bryce Fullwood (Kelly Racing, Opel) finished sixth while Aaron Cameron (Melbourne Performance Centre, Volkswagen), Brown, James Moffat (Garry Rogers Motorsport, Renault) and Nathan Morcom rounded out the top 10.
TCR Australia heads to the Bend Motorsport Park for the season final from November 15-17.
UPDATE: Heimgartner was issued with a 15 second post-race penalty for overtaking under yellow flags.
UPDATED Results: TCR Australia Race 3, Sandown
Pos
Num
Driver
Team
Car
Laps
Time
1

 

38
Nestor Girolami (ARG)
Wall Racing

                   

Honda Civic Type R
20
25:17.9768
2

  

3
Garth Tander (Vic)

     

Melbourne Performance Centre
Audi RS 3

           

20
25:18.4446
3

 

50
Tony D'Alberto (Vic)

   

Wall Racing

                   

Honda Civic Type R
20
25:22.5334
4

  

8
Jason Bright (Vic)

     

Taskforce/Melb Performance Cnt
Volkswagon Golf GTI
20
25:25.4375
5

 

62
Bryce Fullwood (NT)

   

Kelly Racing

                 

Holden Astra

       

20
25:25.7936
6

  

2
Aaron Cameron (Vic)

   

Melbourne Performance Centre
Volkswagen Golf GTI
20
25:28.0687
7

 

30
William Brown (Qld)

   

HMO Customer Racing

           

Hyundai i30N

       

20
25:34.9130
8
777
Andre Heimgartner (NZ)
Kelly Racing

                 

Holden Astra

       

20
25:35.7374
9

 

34
James Moffat (Vic)

     

Garry Rogers Motorsport

       

Renault Megane RS

   

20
25:42.6370
10

 

11
Nathan Morcom (NSW)

   

HMO Customer Racing

           

Hyundai i30N

       

20
26:00.1114
11

  

9
Dylan O'Keeffe (Vic)

   

Ashley Seward Motorsport

     

Alfa Romeo Giulietta
20
26:31.9655
12

 

97
Liam McAdam (Qld)

     

Melbourne Performance Centre
Audi RS 3

           

18
26:03.5963
DNF

  

7
Jordan Cox (NSW)

       

Garry Rogers Motorsport

       

Alfa Romeo Giulietta
19
24:08.1394
DNF

 

35
Alexandra Whitley (Qld)
Melbourne Performance Centre
Volkswagon Golf GTI
11
14:34.0702
TCR Australia Series Standings
Pos
Driver
Points
1

 

William Brown

   

625
2

 

Dylan O'Keeffe

   

481
3

 

Tony D'Alberto

   

473
4

 

Aaron Cameron

   

454
5

 

Nathan Morcom

   

436
6

 

James Moffat

     

394
7

 

Jason Bright

     

346
8

 

John Martin

     

328
9

 

Russell Ingall

   

288
10

 

Garth Tander

     

286
11

 

Jordan Cox

       

223
12

 

Leanne Tander

   

220
13

 

Alex Rullo

       

209
14

 

Andre Heimgartner
206
15

 

Chris Pither

     

186
16

 

Alexandra Whitley
175
17

 

Nestor Girolami

 

132
18

 

Hamish Ribarits

 

118
19

 

Molly Taylor

     

116
20

 

Liam McAdam

     

105
21

 

Jimmy Vernon

     

 

77
22

 

Bryce Fullwood

   

 

76
23

 

Michael Almond

   

 

74
24

 

Chelsea Angelo

   

 

56
25

 

Tim Brook

       

 

46
26

 

Jordan Michels

   

 

46
27

 

Jean-Karl Vernay

 

 

42
28

 

Rik Breukers

     

 

40
29

 

Aaron Seton

     

 

0