Brabham 'feels horrible' after role in race ending S5000 crash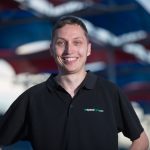 Matthew Brabham says he feels horrible after playing a part in a heavy crash for Alex Davison that brought a premature end to the maiden S5000 Feature race at Sandown.
The former IndyCar racer lightly touched the rear of Davison's car on Lap 9 as the pair were fighting over fifth position on the back straight which triggered a high speed crash.
The touch unsettled Davison, who then fired into the inside wall spraying debris all over the track, with the car spearing across the track and coming to rest after finding the outside wall.
Davison emerged from the crash unscathed while significant damage to the barriers forced officials to call the race after 10 laps, declaring James Golding the winner.
Brabham was shocked by the incident but glad his rival is okay following the impact.
Stan Sport is the only way to watch every round of the S5000. Click here for all the action streaming ad-free, live and on demand.
"First thing I hope he is alright. I saw him standing out the car and I was told he was ok, but I was hoping for his wellbeing because that was a big one and I feel horrible when you see that," said Brabham, when asked by Speedcafe.com to explain the incident. 
"It was one of those things. 
"I had a really big run on him and we came through the right hander and I was starting to go left and then he naturally to the left as well coming out of the corner and I was just waiting for him to pick a line as I had such a big run. 
"I was going to go wherever he didn't go and then as he came across to the left I decided to go right to try and get a run and as we crossed paths the front of my nose just touched the crash box that sticks out really far. It just nicked it enough to send him into the wall.
"I just feel horrible as he is such a good guy."
Davison confirmed that he has avoided injury and praised the strength of the new Onroak-Ligier S5000 cars.  
"I'm completely fine, I'm just disappointed for ARG and S5000. The main race that everyone has been looking forward to didn't go the distance. And we've got a wrecked car as well," said Davison.
"I haven't been out of my comfort zone like that for a long time. It's back when you're 18 and you start driving faster cars that scare you a bit. I haven't hopped in a racing car that keeps you on your toes, and you think 'if I'm not careful I could actually crash this thing', for a long time.
"I was driving along in a straight line, we'd just got through the kink and Matt Brabham hit me from behind. I was a passenger after that. It's disappointing that a guy like that forgot that the gas pedal goes backwards as well as forwards.
"I'm probably talking it down because it didn't hurt. I have no pain. It's a testament to the cars. Safety has obviously been a big priority, and the reason they went to the Onroak-Ligier chassis. From that side of things, I've been a crash test dummy."
Racing resumed at Shannons Nationals meeting resumed after a 50 minute barrier rebuild.