Martin claims inaugural S5000 pole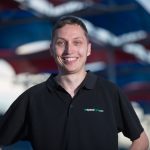 John Martin has made history by claiming the first pole position in the new S5000 series at Sandown.
The experienced single-seater driver found himself locked in a battle with S5000 development driver Tim Macrow (MTEC Motorsport) for much of the session, eventually winning out by 0.013s.
Category regulations dictate that the top 10 get to determine their grid positions for the first two qualifying races, with the order for Qualifying Race 1 reversed for Sunday's Qualifying Race 2.
After topping qualifying, Martin (AGI Sport) had the honour of first pick choosing to keep his pole position which will see him start Sunday's qualifying race from 10th on the grid. 
Macrow also selected to keep his front row berth that he earned in qualifying but will start Race 2 from ninth. 
Stan Sport is the only way to watch every round of the S5000. Click here for all the action streaming ad-free, live and on demand.
Rubens Barrichello kept Martin and Macrow honest ending qualifying 0.3s adrift in third, where he will stay for today's 20 minute heat.   
The session began with damp patches on the track from a period of light rain showers, which saw several drivers elect to start qualifying on wet tyres. 
However, it soon became clear that conditions warranted slicks.
Matt Brabham had set the pace in the early laps with a 1:12.17s but it was short-lived once the field turned to slicks.
Ricky Capo took the benchmark down to a 1:09s as a flurry of fast times emanated from the field.  
Friday practice pacesetter Macrow was next to jump as he lowered the target down to a 1:07.59s.
Martin quickly responded to return back to the top with the pair swapping positions until they both dropped into the 1:05s bracket. 
At this point Barrichello fired his Team BRM entry in to third.
The battle between Martin and Macrow went right to the death with Martin on top as the chequered flag flew.  
The AGI Sport driver then improved his time with his final effort.
Capo (Modena Engineering) ended the session fourth, but has elected to start from sixth, with James Golding (Garry Rogers Motorsport) choosing to fill fourth ahead of Barton Mawer (Milldun Motorsport) in fifth.
Alex Davison (Team BRM) will start seventh ahead of Tim Berryman (Team BRM), Matthew Brabham (MTEC Motosport) and Will Brown (Eggleston Motorsport).  
The inaugural S5000 Qualifying Race is scheduled for 1420 AEST.
S5000 Grid for Qualifying Race 1 
| | | |
| --- | --- | --- |
| Position | Driver | Team |
| 1 | John Martin | AGI Sport |
| 2 | Tim Macrow | mtec Motorsport |
| 3 | Rubens Barrichello | Team BRM |
| 4 | James Golding | Garry Rogers Motorpsort |
| 5 | Barton Mawer | Milldun Motorsport |
| 6 | Ricky Capo | Modena Engineering |
| 7 | Alex Davison | Team BRM |
| 8 | Tim Berryman | Team BRM |
| 9 | Matt Brabham | mtec Motorsport |
| 10 | Will Brown | Eggleston Motorsport |
| 11 | Taylor Cockerton | mtec Motorsport |
| 12 | Tom Aexander | AGI Sport |
| 13 | Michael Gibson | ACM Finance |
S5000 Grid for Qualifying Race 2
| | | |
| --- | --- | --- |
| Position | Driver | Team |
| 1 | Will Brown | Eggleston Motorsport |
| 2 | Matt Brabham | mtec Motorsport |
| 3 | Tim Berryman | Team BRM |
| 4 | Alex Davison | Team BRM |
| 5 | Ricky Capo | Modena Engineering |
| 6 | Barton Mawer | Milldun Motorsport |
| 7 | James Golding | Garry Rogers Motorpsort |
| 8 | Rubens Barrichello | Team BRM |
| 9 | Tim Macrow | mtec Motorsport |
| 10 | John Martin | AGI Sport |