Macrow sees off Martin in thrilling S5000 opener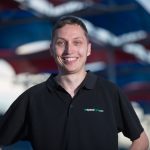 Tim Macrow has become the first race winner in S5000 after seeing off John Martin in an entertaining inaugural qualifying race at Sandown.
The MTEC Motorsport driver managed to jump polesitter Martin (AGI Sport) in what was a frantic start to the 16 lap contest that saw Rubens Barrichello forced off the road at Turn 1 after a nudge from Barton Mawer.  
At the front Macrow was never allowed to relax with Martin applying pressure throughout.
Martin had a sniff of the lead on Lap 2 when Macrow locked up and ran wide at Turn 3, but ultimately it was James Golding who took the advantage.
Golding, who started from fourth, slid by Martin in a dramatic almost three car wide run to Turn 6, but the latter returned the favour two laps later and continued his pursuit of Macrow.
Stan Sport is the only way to watch every round of the S5000. Click here for all the action streaming ad-free, live and on demand.
Martin managed to reel in Macrow, who had a 1.6s lead for the final laps but it was the former, who hung on to take the chequered flag by 0.4s.
Golding held off a charging Matthew Brabham who scythed his way from ninth to fourth at the flag in the #83 MTEC Motorsport entry.
Brabham put Golding under serious pressure but was unable to find a way by the Garry Rogers Motorsport Supercars driver.   
After suffering opening lap contact, former Formula 1 star Barrichello fought back from ninth to seventh behind Will Brown (Eggleston Motorsport) and Alex Davison (Team BRM).
The highlight of the Brazilian's recovery was a gutsy on the brakes pass on Ricky Capo (Modena Engineering) for seventh at Turn 1 midway through the race.  
Capo followed Barrichello to the flag in eighth while the top 10 was completed by Mawer and Tim Berryman.
Tom Alexander (AGI Sport) was the only retirement after he came to a halt on the exit of Turn 4 on lap 3.
The S5000 field will return on Sunday for the second Qualifying Race ahead of the 30 minute Feature Race tomorrow afternoon. 
Results: S5000 Qualifying Race, Sandown
Pos
Num
Driver
Team
Car
Laps
Time
1

 

 

23
Tim Macrow

   

MTEC Motorsport
S5000
16
17:41.4160
2

 

 

24
John Martin

       

AGI Sport
S5000
16
17:41.8671
3

 

 

31
James Golding

     

Garry Rogers Motorsport
S5000
16
17:46.5619
4

 

 

83
Matthew Brabham

   

MTEC Motorsport
S5000
16
17:48.2286
5

 

 

38
Will Brown

       

Eggleston Motorsport
S5000
16
17:52.4817
6

 

 

8
Alex Davison

     

Team BRM
S5000
16
17:53.9244
7

 

111
Rubens Barrichello
Team BRM
S5000
16
17:56.5360
8

 

 

34
Ricky Capo

       

Modena Engineering
S5000
16
18:05.3495
9

 

 

27
Barton Mawer

     

Milldun Motorsport
S5000
16
18:13.9251
10

 

 

33
Tim Berryman

     

Team BRM
S5000
16
18:17.1131
11

 

 

97
Taylor Cockerton

 

MTEC Motorsport
S5000
16
18:27.7924
12

 

 

11
Michael Gibson

   

AMC Finance
S5000
16
18:39.4766
DNF

 

22
Tom Alexander

     

AGI Sport
S5000

 

2

 

2:32.9546