Barrichello, Mawer explain S5000 opening lap clash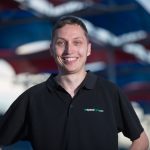 Rubens Barrichello and Barton Mawer have offered their views on the opening lap clash in S5000's landmark first race at Sandown. 
The pair made contact on the run to the first corner that resulted in the pair dropping down the order.
Barrichello, who started third, was forced off the road after copping a hit on his left rear, resulting in the Brazilian avoiding a spin and rejoining the track in ninth after a trip across the grass.
Mawer also dropped down the order having been forced to wrestle his car back into line after the contact.
Barrichello went on to recover to seventh despite battling bent steering and a loss of straight-line speed, while Mawer came home in ninth.
Reflecting on the incident the former Formula 1 star felt his rival missed his braking mark, while admitting he was lucky not to spin his Team BRM entry.
"It's been quite a thing for everyone as everyone had to learn how to start," said Barrichello post-race.
"I had a good jump but stayed back a bit and went into the first corner and I knew the cars were close by.
"I tried to give a little bit of space and I think he missed the braking point and he hit my rear wheel. I was lucky not to spin and kept on the grass. 
"After that the steering wheel was a little bit to the left so I think it was a bit bent, but I still had a good experience trying to fight the other guys. 
"I was a little down on acceleration so we are looking into that but I was getting closer and closer to the fastest lap, my car is not the fastest but it is getting there.     
"I'm pretty sure that, because my steering wheel was a little bit to the left, it might have something to do with my straight-line speed. I hope it gets fixed, the team is working on that."
Meanwhile, experienced Australian single-seater racer, Mawer, felt he had left enough room for the former Ferrari F1 great going into Turn 1.
"I got a good start, so I wanted to make use of that," said Mawer.
"I was inside Rubens, he must have known I was there. It got tight at the apex and we touched. 
"Obviously it was the last thing I wanted. I haven't actually spoken to Rubens, he's probably not too happy about it. But there's going to be plenty more wild moments like that in S5000.
"Look, I'll have a talk to him. It takes two to tango, I didn't have any more room on the inside. I couldn't do much. There might have been a bit more room on the outside."
The pair will return to action on Sunday morning for the second Qualifying Race, with Barrichello set to start eighth behind Mawer in sixth.
Tim Macrow won the category's inaugural race after holding off John Martin in an entertaining 16 lap heat.