Macrow heads Barrichello in interrupted S5000 Practice 2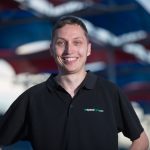 Tim Macrow continued to be the man to beat as he headed multiple Formula 1 race winner Rubens Barrichello in S5000 Practice 2 at Sandown.
The three-time Australian Formula 3 series winner, who topped opening practice, posted a 1:06.41s lap in a truncated 20 minute session at Sandown.
He stormed to the top of the times shortly after the session was restarted following a brief red flag period five minutes when Michael Gibson had an off at Turn 9.
Macrow went on to shave almost a second from his benchmark to get down to his personal best.
Barrichello was among several drivers to improve in the final 10 minutes with the 11-time F1 race winner managing to lap within 0.5s of Macrow.
The Team BRM driver showed much more pace as the Brazilian began to adapt to both the Melbourne circuit and the S5000 single seater.
John Martin was third fastest in the AGI Sport entry at just a tenth shy of Barrichello, while Garry Rogers Motorsport's James Golding was fourth.
Matthew Brabham ended up fifth in the #83 MTEC Motorsport entry ahead of Ricky Capo (Modena Engineering).
The top 10 was completed by Taylor Cockerton (MTEC Motorsport) Alex Davison (Team BRM), Tim Berryman (Team BRM) and Will Brown (Eggleston Motorsport).
Brown completed only seven laps having spent a significant amount of time in the pit lane after finding the wall at Turn 3 early on the piece.
S5000 will return for qualifying at 1115 AEST on Saturday followed by a qualifying race at Sandown.
Results: S5000 Practice 2, Sandown
Pos
Num
Driver
Team
Car
Time
Gap
1

 

 

23
Tim Macrow

   

MTEC Motorsport
S5000
1:06.4195
2

 

111
Rubens Barrichello
Team BRM
S5000
1:06.9593
00.5398
3

 

 

24
John Martin

       

AGI Sport
S5000
1:07.0614
00.6419
4

 

 

31
James Golding

     

Garry Rogers Motorsport
S5000
1:07.5938
01.1743
5

 

 

83
Matthew Brabham

   

MTEC Motorsport
S5000
1:07.6762
01.2567
6

 

 

34
Ricky Capo

       

Modena Engineering
S5000
1:08.0101
01.5906
7

 

 

97
Taylor Cockerton

 

MTEC Motorsport
S5000
1:08.1117
01.6922
8

 

 

8
Alex Davison

     

Team BRM
S5000
1:08.6242
02.2047
9

 

 

33
Tim Berryman
Team BRM
S5000
1:09.2384
02.8189
10

 

38
Will Brown

       

Eggleston Motorsport
S5000
1:10.2873
03.8678
11

 

27
Barton Mawer

     

Milldun Motorsport
S5000
1:11.6910
05.2715
12

 

22
Tom Alexander

     

AGI Sport
S5000
1:11.8833
05.4638
13

 

11
Michael Gibson

   

Australian Racing Enterprises
S5000
1:31.4995
25.080