CAMS investigating Waters' critical Pukekohe comments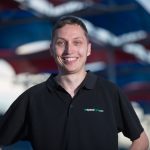 Cameron Waters also may face a sanction from the Confederation of Australian Motor Sport for the critical comments made following a chaotic Race 24 at the ITM Auckland SuperSprint.
The Tickford Racing driver claimed that Supercars should not award championship points for Sunday's race at Pukekohe after a confusing Safety Car period dominated the outcome.
Waters' comments were posted on his social media and via a team press release which has seen CAMS issue a letter to the driver to explain his remarks.
It is the same procedure that Jamie Whincup is currently facing for his explosive comments made towards the officials.
The comments under investigation are as follows; "I had a really good race car, was just trucking around, we would have been on for a podium, but obviously Race Control managed to screw that one up royally," said Waters in a team press release.
"It's an embarrassment that a championship can do that and classify it as full points, so as far as I'm concerned I want an explanation from the powers that be, and I think that race should be zero points."
Waters has since contacted CAMS after receiving a letter and is due to meet with the motorsport governing body to discuss the matter in the coming days.
"He has received the same (letter)," CAMS CEO Eugene Arocca confirmed to Speedcafe.com.
"Obviously his comments in context were not as personal as those from Jamie, but he was dropped the letter and contacted me by phone the following day and is coming in to see me.
"That discussion will be dealt with accordingly and depending on the outcome of that there will be an announcement one way or another. He would not be immune from being referred to a tribunal.
"I am able to manage an outcome that is reasonable and fair but if it is not deemed to be a reasonable and fair outcome, the only other option is to refer to a tribunal.
"The same would apply to Cam as it would for Jamie."
Speedcafe.com understands both Waters and Whincup are likely to receive some form of sanction which will be determined over the coming days and may see the drivers face a tribunal.