Calls for investigation into Pukekohe Safety Car mess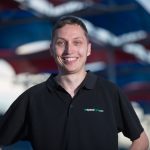 Triple Eight has led a call for an investigation into the Race Control procedure that resulted in a controversial Safety Car deployment in Race 24 at Pukekohe.
The conclusion to the ITM Auckland SuperSprint was shrouded in controversy following a messy Safety Car period that ruined races for several podium contenders including Jamie Whincup, who copped a drive-through penalty.
Whincup, the early leader in Race 24, was picked up by the Safety Car on the back straight at Pukekohe despite having dropped further down the order due to having already served his first pit stop.
The seven-time champion then elected to pass the Safety Car without permission in a bid to rectify the situation while Lee Holdsworth stayed behind with the rest of the early race contenders as the Safety Car lights were flashing yellow.
Holdsworth and several other early front-runners ended up outside the top 10 and effectively out of contention.
Triple Eight team manager Mark Dutton believes the whole situation needs to be reviewed with possible measures put in place to avoid a repeat of the confusion.
Dutton maintains that the Safety Car lights should have been green when it had picked up Whincup to allow his driver and cars behind to pass.
However, it is important to note that in the driver's briefing notes for the event it states, "In some circumstances the Safety Car may be deployed and hold the first approaching car then at the appropriate time any cars between the Safety Car and leader will be waved through."
"We've got to look at how we did it, because we all do it together," said Dutton.
"How we're communicating, what was happening. Will there be an investigation?
"Will there be an investigation to say how were the lights on, because I think that's still correct that the lights had been on, but they shouldn't have been.
"In every other level, or this level of professional sport, there should be an investigation into how it happened and changes implemented or systems to ensure it doesn't happen again.
"So we'll worry about our side, we've got experience, so we'll see how we can improve our processes but as a category it's happened more times that way than times we've stuffed up.
"So we'll look at ourselves internally but I do hope something gets done because it wasn't just us who got hurt in that, race-wise.
"There was a lot of cars that finished much, much worse than they should have because of that. So it's a big deal and needs to be treated accordingly."
Whincup led a stinging attack on Race Control after the race while several other drivers affected by the chaos were left furious, namely Tickford duo Lee Holdsworth and Cameron Waters, with the latter calling for the championship to not award points.
Race Control has defended its practices but has confirmed it will review its procedures during its event debrief.
"Like any race team, we'll go back, we'll replay the race through the timing system," said Deputy Race Director David Stuart.
"I've already looked at it; immediately after the race I went to the timing room and I replayed up until Lap 14-15 through the timing system
"I've got a pretty good understanding of where everybody was and what the situation was, but as I said, like any race team, we'll go back, we'll review and debrief what we had and we'll understand what the situation is.
"By Car 88 going past the Safety Car, it took away any opportunity we had to do that in-race.
"At all times we try and manage it to get the best outcome. There are some times where you have to neutralise the race and determine who the leader is."
When asked if Race Control believed, in the hours after the race, that it didn't do anything wrong, Stuart replied: "The whole point of having debriefs is to review exactly what we did, but what we have said is that the Safety Car neutralises the race and at particular circuits — here (Pukekohe), Symmons Plains, Barbagallo — where you have a short lap and a long pit lane, it gives us the opportunity to pick up the leader; because the leader sitting in the pit lane is not the leader.
"The leader is the car that crosses Safety Car 2 (line) and until that car crosses the Safety Car 2 it doesn't become the leader."
Race director Tim Schenken added: "You understand the importance of Safety Car 2 because that's the first timing line.
"When you say 'pick up the leader' it's not necessarily the leader in the classification, it's just on that particular lap because you have cars going out of pit lane, you have cars joining on the track and continuing on the track."