Whincup hits out at Race Control after Safety Car mess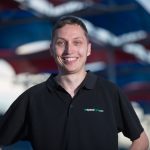 Jamie Whincup has slammed Race Control after a Safety Car mix-up dramatically altered the outcome of Race 24 at the ITM Auckland SuperSprint.
The seven-time champion was left fuming post-race after his victory hopes were dashed when Race Control did not pick up the leader as it deployed the Safety Car on lap 14 after David Reynolds stopped out on track.
The Safety Car picked up Whincup but the pole-sitter was not the race leader at the time.
Whincup chose to pass the Safety Car, while the yellow lights were flashing, knowing the situation, but was subsequently penalised with a drive-through penalty for passing the Mustang, which dropped him to the back of the field.
THE FINAL RACE OF THE 2023 REPCO SUPERCARS CHAMPIONSHIP ON ONE OF THE WORLD'S BEST STREET CIRCUITS. GO ALL IN AT THE VAILO ADELAIDE 500, CLICK HERE TO BUY TICKETS
The confusion was triggered as several drivers elected to pit under the caution.
As a result, Lee Holdsworth, who was running second early in race, remained behind the Safety Car as Whincup raced around which then allowed several cars that pitted during that period to slot between them, creating a false race order.
"I think it sort of looks pretty obvious from my point of view," said Whincup post-race, who came home in 16th position.
"(The Safety Car) should have had green lights on.
"I'm sure somewhere in the rule book somewhere they're allowed to keep the yellow (lights) on because that's for if there's a car in the wall in a dangerous position but that wasn't the case.
"They should have had green lights on, I wasn't the leader of the race.
"The problem is you've got all the drivers, you've got everyone here, this is our life, you know, and we're pushing bloody hard and you've got people making decisions that are just cruising back, just having a few glasses of red each night, and rocking up to the track and brains not with it.
"They're not operating at the same level as what the teams are operating at.
"It was either stay behind and get completely screwed like the FPR (Tickford) guys, or just try to, hopefully… I gave them the opportunity to put the greens on.
"I stopped, waited, waited, waited, but they were just all asleep, so I just went though.
"Our position wouldn't have changed much. We would have been well back, 10-plus.
"We ended up 15th, 16th. So really we were done anyway so it didn't make any difference."
Scott McLaughlin went on to win the race from Shane van Gisbergen (Triple Eight) and Chaz Mostert (Tickford).