Waters: Embarrassing to award points in Pukekohe chaos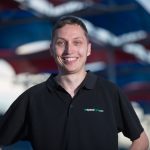 Championship points shouldn't have been awarded after a controversial Safety Car in Race 24 at Pukekohe, according to Cameron Waters.
Waters believes he was on course for a second podium of the weekend at the ITM Auckland SuperSprint before a messy deployment of the Safety Car resulted in him being pushed down the order.
The Safety Car had picked up Jamie Whincup, who was not the race leader at the time, and in a bid to correct the situation the seven-time champion passed the Safety Car without permission.
Tickford Racing was among those worst affected with Waters, Lee Holdsworth and Will Davison bearing the brunt of the situation.
Chaz Mostert in the other Tickford Mustang benefited from the drama but declared that Holdsworth deserved his third place finish.
Race Control has since defended its actions although Waters feels it was an embarrassment for the championship to hand out points.
"I had a really good race car, was just trucking around, we would have been on for a podium, but obviously Race Control managed to screw that one up royally," said Waters.
"It's an embarrassment that a championship can do that and classify it as full points, so as far as I'm concerned I want an explanation from the powers that be, and I think that race should be zero points."
Tickford Racing boss Tim Edwards admitted after the race that his drivers were "beyond angry" over the situation.
Holdsworth was 'furious' post-race having missed out on his best chance yet to secure a podium finish with Tickford.
"I'm furious, to be honest. That was a complete and utter stuff up, I don't know what else to say," said Holdsworth.
"The boys and Sammy (Scaffidi, engineer) did a great job and gave me a great car, we put it on the front row, and we have nothing to show for it.
"We finally had a real good chance to take home some silverware and something like that takes it away from us. I have no words."