Safety Car drama can't take gloss off McLaughlin's record-breaking win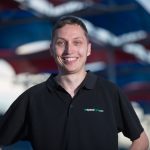 Scott McLaughlin says the Safety Car chaos has not taken the gloss off an 'unbelievable' achievement to break Craig Lowndes' record for most wins in a season on home soil.
McLaughlin snared his 17th win of the season at Pukekohe in somewhat fortuitous circumstances caused when Jamie Whincup passed the Safety Car amid confusion surrounding whether it had picked up the right car.
The championship leader had struggled for race-winning pace all weekend but was able to take advantage of the Safety Car to lead home Shane van Gisbergen for an emotional record-breaking win in front of the parochial crowd.
McLaughlin's win broke Lowndes' record of 16 wins in a season that had stood since 1996.
To mark the milestone, Lowndes was on hand to congratulate the Kiwi shortly after the race finish.
Given an unusually up and down weekend for McLaughlin, the feat had come as a bit of a surprise at the chequered flag.
"It was unbelievable. I actually completely forgot that I had done it," said McLaughlin.
"(I was) sort of wondering why Lowndsey was at the podium at the end there.
"(I'm) Very proud. Obviously going into the weekend, I would have loved to have had a win here at least regardless if there was a record on the line or not.
"To do it here was a very proud moment (and in my) 100th round (is) just a special circumstance.
"I just had a good feeling out in the race and everything sort of worked out alright.
"Luckily we pitted just when the Safety Car came out, or we did one more lap so there was no confusion," he said, when asked if the circumstances of the win had taken the shine off it.
"It sucks for the category, I don't want to win like that, but at the end of the day sometimes you get lucky and sometimes you don't."
Lowndes acknowledged the achievement when he congratulated McLaughlin post-race.
"Well after 23 years it's finally been done," he said when he congratulated McLaughlin.
"I think you were three (years old) when I did it. Look, it's great. Obviously it's fantastic for you. You guys are doing a fantastic job this year, well done."
McLaughlin not only broke Lowndes' benchmark, but also a Team Penske record dating back 51 years by surpassing the legendary Mark Donohue as the organisation's most prolific race winner in a single season.
CLICK HERE for a gallery of McLaughlin's season to date.