Davison joins S5000 grid for inaugural meeting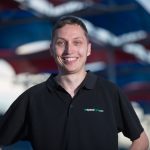 Alex Davison has become the latest driver to join the grid for the inaugural round of the S5000 series.
The 39-year-old former Supercars full-timer will make his first serious wings and slicks outing in the new V8 powered single seater formula.
Davison, the older brother of Tickford Supercars driver Will Davison, will pilot the second Team BRM entry joining multiple Formula 1 race winner Rubens Barrichello.
The outing is only the second time he has raced a powerful open wheeler having previously raced a Lola T332 historic Formula 5000 – a car owned by his father Richard.
The announcement makes Davison the ninth driver locked in for the Sandown S5000 grid, joining Barrichello, Matthew Brabham, TCR drivers Will Brown and John Martin, Tim Macrow, Barton Mawer, Tom Alexander and Michael Gibson.
Davison will contest the opening S5000 round alongside his role as Driver Standards Advisor for TCR Australia.
"I've enjoyed my time as the Driver Standards Advisor for TCR Australia, but I'd much prefer to be the other side of the fence, so I'm really excited for this opportunity," said Davison.
"I've been watching the developments of the S5000 category with interest, right from the beginning. I remember some discussions I had with Chris Lambden many years ago, and there's been some twists and turns, but it's awesome to see his vision come together.
"There's been a lot of chat in the industry about it, and it's an honour to be involved in the first ever event.
"This is the first serious open wheel race that I've been in since the 1999 Formula Ford Festival at Brands Hatch. I really don't have any expectations. I've never raced wings and slicks, but I'm really excited to be competing."
Davison will get his first drive of the S5000 car at Phillip Island, joining all of his rivals for a test before practice kicks off on Friday, September 20.
Entry list: Round 1, Sandown International Motor Raceway Provisional to date