Whincup stripped of Pukekohe podium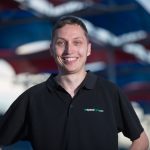 Jamie Whincup has been stripped of his second place finish at the ITM Auckland SuperSprint following a post-race investigation.
Stewards have handed the seven-time Supercars champion a 15-second penalty for contact on Nick Percat on Lap 2 which resulted in the Brad Jones Racing driver spinning at the Turn 8 hairpin.
Whincup, who started Race 23 of the season from 12th, attempted a dive underneath Scott Pye but hit Percat, who was on the outside of the corner.
The Triple Eight driver powered on from there to finish second on the road behind team-mate and race winner Shane van Gisbergen.
As a result of the post-race investigation, Triple Eight has lost its one-two finish, with Cameron Waters now inheriting second, while Penrite Racing's David Reynolds takes third.
"Following a post-race investigation and an admission by Car 88, Jamie Whincup, of a breach of the Code of Driving Conduct (Schedule 2.2.1 – Careless Driving – causing contact with Car 8, Nick Percat, on Turn 8 on Lap 2), the Stewards imposed a 15 second time penalty on Car 88, Jamie Whincup," read a report from the stewards.
Whincup, who drops to sixth as a result, apologised to Percat immediately after the race.
"I went down and spoke to his whole crew, and Nick as well," said Whincup.
"You don't want to take those, you don't want contact, you just want hard, clean racing. But sometimes contact happens."
Meanwhile, Percat was left frustrated by the clash having had a fast car underneath him during the race.
"Jamie just said sorry. It was a pretty shit birthday present," said Percat, who turns 31 years of age today.
"I don't know what, honestly, I could have done from my position.
"I was just turning and it looks like he's had a lunge on Pye and kind of misjudged how slow everyone was going. I was just on the racing line doing my thing.
"(It's) disappointing, obviously the car was fast, to come back from last or a long way back and get back to 12th.
"(The) frustrating thing is we're showing good pace and we've got some new stuff in the car, everyone here at BJR is doing a mega job, and I just want to get some more good results.
"Disappointing. (We will) fight back tomorrow and see how we go."
Percat was adamant that a penalty should have been issued in-race, adding: "I would have assumed an instant drive-through penalty which, to be honest, would have been fair for any form of motorsport over the years."
The ITM Auckland SuperSprint concludes with a 200km race on Sunday.
Results: Race 23, ITM Auckland SuperSprint Updated
| | | | | | | |
| --- | --- | --- | --- | --- | --- | --- |
| Pos | Num | Team/Sponsor | Driver | Car | Laps | Race time |
| 1 | 97 | Red Bull Holden Racing Team | Shane van Gisbergen | Holden Commodore ZB | 70 | 1:19:07.6388 |
| 2 | 6 | Monster Energy Racing Team | Cameron Waters | Ford Mustang GT | 70 | 1:19:20.2879 |
| 3 | 9 | Penrite Racing | David Reynolds | Holden Commodore ZB | 70 | 1:19:23.0666 |
| 4 | 17 | Shell V-Power Racing Team | Scott McLaughlin | Ford Mustang GT | 70 | 1:19:23.7278 |
| 5 | 5 | The Bottle-O Racing Team | Lee Holdsworth | Ford Mustang GT | 70 | 1:19:24.5302 |
| 6 | 88 | Red Bull Holden Racing Team | Jamie Whincup | Holden Commodore ZB | 70 | 1:19:25.0018 |
| 7 | 12 | Shell V-Power Racing Team | Fabian Coulthard | Ford Mustang GT | 70 | 1:19:29.0219 |
| 8 | 7 | Plus Fitness Racing | Andre Heimgartner | Nissan Altima | 70 | 1:19:29.6345 |
| 9 | 23 | Milwaukee Racing | Will Davison | Ford Mustang GT | 70 | 1:19:32.4612 |
| 10 | 33 | Boost Mobile Racing | Richie Stanaway | Holden Commodore ZB | 70 | 1:19:33.5656 |
| 11 | 14 | Machinery House Racing | Tim Slade | Holden Commodore ZB | 70 | 1:19:34.2994 |
| 12 | 8 | NZ Safety Blackwoods Racing | Nick Percat | Holden Commodore ZB | 70 | 1:19:39.4878 |
| 13 | 2 | Mobil 1 Racing | Scott Pye | Holden Commodore ZB | 70 | 1:19:39.9183 |
| 14 | 35 | Bigmate Racing | Todd Hazelwood | Holden Commodore ZB | 70 | 1:19:45.4886 |
| 15 | 99 | Penrite Racing | Anton De Pasquale | Holden Commodore ZB | 70 | 1:19:45.9585 |
| 16 | 78 | Team Harvey Norman | Simona De Silvestro | Nissan Altima | 70 | 1:19:46.2248 |
| 17 | 22 | Mobil 1 Racing | James Courtney | Holden Commodore ZB | 70 | 1:19:47.6236 |
| 18 | 3 | RABBLE.club Racing | Garry Jacobson | Nissan Altima | 70 | 1:19:49.8172 |
| 19 | 15 | Castrol Racing | Rick Kelly | Nissan Altima | 70 | 1:19:54.6695 |
| 20 | 21 | Team CoolDrive | Macauley Jones | Holden Commodore ZB | 70 | 1:20:05.5406 |
| 21 | 19 | Truck Assist TEKNO Racing | Jack Le Brocq | Holden Commodore ZB | 69 | 1:19:21.9992 |
| 22 | 18 | Irwin Racing | Mark Winterbottom | Holden Commodore ZB | 65 | 1:19:56.9295 |
| 23 | 34 | Boost Mobile Racing | James Golding | Holden Commodore ZB | 60 | 1:19:52.4998 |
| 24 | 55 | Supercheap Auto Racing | Chaz Mostert | Ford Mustang GT | 56 | 1:20:09.3370 |
Championship points Updated
| | | |
| --- | --- | --- |
| Pos | Driver | Pts |
| 1 | Scott McLaughlin | 2858 |
| 2 | Shane van Gisbergen | 2272 |
| 3 | Fabian Coulthard | 2248 |
| 4 | Chaz Mostert | 2198 |
| 5 | Jamie Whincup | 2083 |
| 6 | David Reynolds | 2051 |
| 7 | Cameron Waters | 1912 |
| 8 | Nick Percat | 1774 |
| 9 | Will Davison | 1745 |
| 10 | Lee Holdsworth | 1644 |
| 11 | Anton De Pasquale | 1620 |
| 12 | Andre Heimgartner | 1478 |
| 13 | James Courtney | 1456 |
| 14 | Mark Winterbottom | 1426 |
| 15 | Tim Slade | 1407 |
| 16 | Scott Pye | 1258 |
| 17 | Rick Kelly | 1230 |
| 18 | Todd Hazelwood | 1180 |
| 19 | James Golding | 1139 |
| 20 | Simona De Silvestro | 1033 |
| 21 | Jack Le Brocq | 856 |
| 22 | Macauley Jones | 852 |
| 23 | Garry Jacobson | 812 |
| 24 | Richie Stanaway | 650 |
| 25 | Jack Smith | 285 |
| 26 | Michael Caruso | 222 |
| 27 | Chris Pither | 159 |
| 28 | Thomas Randle | 108 |
| 29 | Tim Blanchard | 93 |