Experienced Aussie single-seater racer lands S5000 drive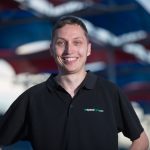 Experienced Australian single seater and GT driver Barton Mawer will contest the opening two rounds of the new S5000 open wheel series.
The 38-year-old will has secured a deal to race both the Sandown (September 20-22) and The Bend Motorsport Park (November 15-17) events in a car privately entered by S5000 investor Bill Tymms and prepared by Milldun Motorsport.
Mawer becomes the eighth driver confirmed for the landmark opening round of the new V8 powered open wheel formula, joining a grid that includes multiple Formula 1 race winner Rubens Barrichello and former IndyCar driver Matt Brabham.
The New South Welshman boasts a wealth of single seater mileage having raced in Australian Formula Ford, Formula 3, British Formula 3 and the Champ Car Atlantic Series.
Mawer finished runner-up in the 2003 Australian F3 season and the 2005 British F3 National Class.
Since then he has focused on racing in production cars and GTs, winning the Australian GT Trophy class in 2015 while also working as a driver coach.
Last year he won the World Time Attack event at Sydney Motorsport Park.
"I have been following closely the journey this class has taken since the early inception. I met with Chris Lambden early in 2016 and could see his vision and admired the concept," said Mawer.
"As a young child I got to see the early stages of Formula Holden as my father was running a team and later preparing cars for the likes of Mark Larkham and watching those cars go through the Turn 1 kink at Oran Park and T1 at Eastern Creek still inspires me to this day.
"Australia has been starved of a proper premier open wheeler category in this country for too long, S5000 has re sparked the interest of a lot of the old guard and some new people also.
"S5000 has shown they expect this to be a serious category. By announcing Rubens Barrichello and attracting quality drivers it has me fired up and also gives us a real platform to build on our partners to grow this team into an established operation."
The opportunity is to join the S5000 grid is a huge moment for Milldun Motorsport.
"To be part of something like this from the start is huge for the team and for Barton," said team owner Liam Dunn.
"The calibre of the drivers for the first event is very impressive, and the way the cars are built and designed, to really showcase the driver's skill, is going to make this class an unbelievable spectacle. And GRM has done a tremendous job with the cars. The engineering and workmanship is first class.
"Barton's experience in open wheelers is a perfect fit for our team. When the idea came about of running in S5000, Bart was really the only person we had in mind for it.
"There's a lot of excitement at the moment for this category, and we're definitely not going there to make up the numbers."
The inaugural S5000 meeting at Sandown will be broadcast live on SBS and via the Shannons Nationals live stream carried by Speedcafe.com.
Entry list: Round 1, Sandown International Motor Raceway Provisional to date